Alleviate
PMS Symptoms
Premenstrual syndrome or, better known as, PMS may seem like a monthly scourge you will endure until you hit menopause (and then there are all those menopausal symptoms to deal with!) but experts say that this monthly hell week is actually preventable. Dr. Susan Thys-Jacobs, M.D., practicing endocrinologist and leader in the study of PMS, says PMS is the result of a nutritional imbalance and that changes in your diet and lifestyle can reduce, if not eliminate, those pesky PMS symptoms.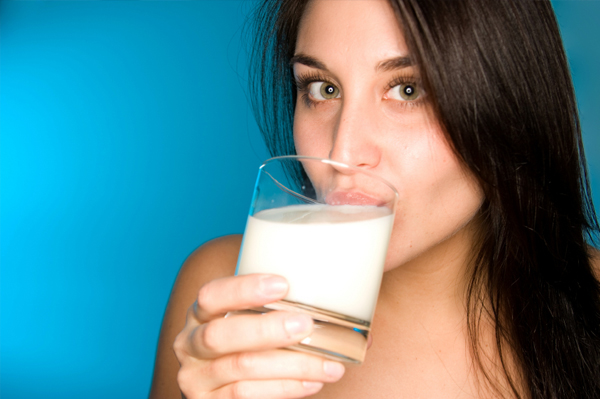 You dread the mood swings, lethargy, weight gain and headaches that inevitably show up a week before your period is due. You wish there was some magical remedy to alleviate your PMS but you don't want to go whining to your ob/gyn nor do you want to take over-the-counter medications. You are not alone.

Thirty-five million women share your PMS pain. The good news is that you don't have to resort to prescription or over-the-counter drugs for PMS and you don't have to put up with PMS, either. Understanding why PMS occurs and learning ways to treat it will help you finally get rid of premenstrual syndrome for good.

What causes PMS?
PMS is a very common disorder afflicting millions of young women on a monthly basis. These symptoms can appear a few days to even 14 days before menstruation. Though you may feel "crazy" or abnormal when PMS hits, PMS actually serves a purpose.
Thys-Jacobs says, "PMS is not a disease or psychiatric condition, but a manifestation of a nutritional deficiency. PMS is a very healthy signal alerting young women of a mineral imbalance. If women don't ingest enough dietary calcium and vitamin D, the hormones that regulate calcium react negatively with estrogen and progesterone and trigger PMS symptoms."
She adds, "My research, as well as recent findings from the largest NIH (National Institute of Health) study ever performed on women with severe PMS, proves that the symptoms of PMS are a sign of a calcium and vitamin D deficiency. PMS symptoms such as depression, fatigue, irritability or mood swings, signal an imbalance of essential minerals in the body."
According to Thy-Jacobs, consuming more dietary calcium and vitamin D can effectively treat PMS symptoms better than any other nutrients. However, she says that while some foods rich in calcium can help alleviate symptoms, in reality, a PMS-specific supplement is the most successful way to treat premenstrual symptom. Because the typical American diet is deficient in calcium anyway, calcium-supplementation is highly recommended and is now even easier to swallow (read
Alternative choices for calcium supplementation
).
For PMS, Thys-Jacobs recommends a natural, clinically proven supplement called Premcal, a combination of ingredients that helps restore the body's calcium and vitamin D levels while normalizing the exaggerated hormone fluctuations responsible for PMS symptoms. Thys-Jacobs created Premcal after recognizing similarities between women with PMS and women suffering from a calcium deficiency.
What can a woman do to prevent or ease PMS symptoms?
Despite the desire for a pill to take away all of your PMS pain, you also need to shape up your lifestyle.
Bone up on calcium.
According to a study published in American Journal of OBGYN, calcium can potentially cut symptoms in half.
Foods rich in calcium
, such as dairy products and calcium-fortified food, may help increase your calcium intake, but Thys-Jacobs warns that there are very few foods that provide optimal quantities of vitamin D (and vitamin D is essential in helping the body absorb calcium).
She recommends, "To effectively minimize PMS symptoms women should have 1000 milligrams of calcium and 1000 to 2000 IU of vitamin D daily. However, since one cup of milk contains approximately 300 milligrams of calcium and 100 IU of vitamin D, women would have to drink 10 to 20 cups of milk a day to get the right amount of vitamin D."
Getting outside in the sunlight everyday can help boost your body's vitamin D, but this is not always possible, especially in the winter or if you can't escape work during the daylight hours. So, to get enough vitamin D, supplementation is often necessary. Taking the right amount of calcium and vitamin D is essential to alleviate those monthly blues, irritability, tension, headaches and cravings, and a PMS-specific nutraceutical, such as Premcal, is a good solution.
If you choose to try Premcal, don't leave home without it. "Always keep Premcal in your desk drawer! Premcal's portable packaging makes it easy to pop in your purse or desk," suggests Thys-Jacobs.
Diet changes.
Thys-Jacobs recommends increasing dietary calcium by eating low-fat cheese and yogurt and drinking 1 to 2 glasses of milk a day to alleviate some of the symptoms of PMS. In addition, reduce your intake of carbonated beverages, coffee, alcohol, and smoking to further reduce PMS symptoms.
Quick foods to keep handy.
Keep a ready supply of almonds (high in calcium and magnesium), calcium-enriched cereals, milk, cheese, and yogurt. For more information, read
Reduce PMS by changing your diet
.
Get quality sleep.
You know how much better you feel after a good night's rest. Sleep works wonders for a happy mind and body. "A minimum of 7 to 8 hours [of sleep] is currently recommended. Improve your shut-eye with these
six tips to get a better night sleep
.
Exercise. Thys-Jacobs explains, "Moderate physical exercise on a daily basis can boost one's energy, increase blood flow and relax muscles. Bicycling, vigorous walking, jogging can all help to alleviate PMS symptoms." In addition, exercise provides numerous other benefits to your health, including physical fitness, weight loss or gain (depending on your goals and workouts), radiant skin, and brighter moods (think endorphins).

Why does Premcal work?
Premcal is the only natural clinically-proven product specifically formulated to alleviate all PMS symptoms. There is no other natural supplement that is as successful for reliving all symptoms.
Premcal is available in three different strengths: Light, Regular and Extra Strength. Each formula includes a proven combination of calcium (500 milligrams), magnesium (15 milligrams) and three varying strengths of vitamin D to help regulate the body and alleviate PMS symptoms.
Because Premcal is taken daily, you not only set the stage to feel better all month long, every month, you are also benefiting your bone health. Thys-Jacobs says, taken regularly, most PMS symptoms will disappear within six to eight weeks. And the delicious chewable flavors (orange and vanilla) make it an easy addition to your day.
Thys-Jacobs concludes, "I've been treating PMS for twenty years, and it's great to finally be able to offer Premcal as a simple solution for the millions of women who think that suffering is a normal part of their monthly cycle. I've helped thousands of women see life-changing results, but that's not enough – I'll know we've succeeded when all women don't even realize they're getting their period."
For more information on natural remedies to reduce PMS, visit Premcal.
And be sure to visit the SheKnows.com Health and Wellness Channel for more articles on women's health.