Low Glycemic
Foods
If you've been eavesdropping on the latest diet trends, you've probably heard the buzz on the Glycemic Index (GI). But understanding the hefty slice of science behind the low-GI diet can be daunting. The GI is basically a ranking of how various carbohydrates affect the blood sugar: High-GI foods break down quickly and raise blood glucose fast and high, while low-GI foods make a more gradual, less drastic rise in blood glucose.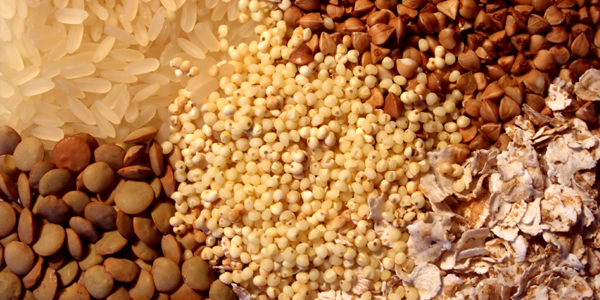 As such, low-GI diets have gained popularity as a tool to help manage diabetes -- but they've also been hotly debated as a weight loss method. Current evidence for using the GI to help manage weight is inconclusive. But many nutritionists are finding a lot to like about low-GI foods, since they tend to be whole foods that are high in fiber and packed with nutrients. Eating a low-GI diet is not about avoiding carbs all together, but focusing on the more healthful carbs.
"Using the GI for weight management has not been proven effective," says dietitian Patricia Vasconcellos, R.D., CDE, spokesperson for the American Dietetic Association. "Yes, you want to choose foods high in fiber -- these are generally low-GI foods -- which help with satiety, curbing your appetite and therefore helping with weight maintenance." Vasconcellos suggests that you choose healthful carbs high in fiber and low in calories, using caution about what you add to these foods. If you pile butter on your low-GI green beans, then you're not going to win the battle at the bathroom scales. When it comes to weight loss, the bottom line is still reducing calories and exercising more.
The GI buzz
So where can you look up the GI values of your favorite foods? Check out The University of Sydney's Glycemic Database.
HIGH GLYCEMIC INDEX FOODS
Food (Glycemic index)
Instant rice (124)
Corn Flakes (119)
Rice Krispies (117)
Jellybeans (114)
French fries (107)
Soda crackers (106)
Potato (boiled/mashed) (104)
White bread (100)
Melba toast (100)
Couscous (93)
Ice cream (87)
Oatmeal (1-minute oats) (87)
Digestive cookies (84)
Table sugar (sucrose) (83)
LOW GLYCEMIC INDEX FOODS
Food (Glycemic index) Popcorn (58)
Oat bran bread (68)
Oatmeal (slow-cook oats) (70)
Parboiled rice (68)
Pumpernickel (66)
All-Bran (60)
Sweet potato (54)
Skim milk (46)
Pasta (40 to 70)
Lentils/kidney beans (40 to 69)
Apple/banana/plum (34 to 69)
Source: Canadian Diabetes Association
Glycemic Index Range:
Low GI = 55 or less
Medium GI = 56�69
High GI = 70 or more
Low Glycemic Recipes
Beef Barley Soup with Leeks and Mushrooms
Serve this elegant yet rustic soup with a field greens, goat cheese, olive oil vinaigrette salad and a whole-grain oat roll for a delicious low-GI meal.
Ingredients:
1 teaspoon vegetable oil
1 pound beef stew meat, cubed
2 cups sliced celery
2 cups sliced leeks, both green and white portions
3 cloves garlic, minced
1 teaspoon salt (optional)
1 teaspoon black pepper
8 ounces fresh brown mushrooms, sliced
7 cups water
1 teaspoon soy sauce
3 cubes beef bouillon
1/2 cup pearl barley
1 bay leaf
1 sprig fresh rosemary
Directions:
1. In large, heavy pot, heat vegetable oil. Add stew meat and brown, stirring to avoid sticking.
2. Add celery, leeks, garlic, salt and pepper and saut� until crisp tender.
3. Add fresh brown mushrooms and saut� for an additional 5 minutes.
4. Add water, soy sauce, beef bouillon, pearl barley, bay leaf and fresh rosemary. Cover pot with lid and cook over low heat for an additional hour until barley and vegetables are tender.
13 1-cup servings. Per serving: 10g carbs; 2g fiber; 9g protein; 3g fat; 1g saturated fat; 513mg sodium; 22mg cholesterol; 98 calories; 27 calories from fat.
Sunflower Banana Whole-Grain Muffins
These tender, whole-grain muffins, sweetened naturally with bananas and honey, are as wholesome as a summertime stroll in a sunflower patch.
Ingredients:
1/4 cup vegetable oil
2 tablespoons honey
2 medium over-ripe bananas, mashed
1 egg
1 cup whole-wheat flour
3/4 cup oats
1 teaspoon baking powder
1 teaspoon baking soda
1/2 teaspoon salt (optional)
1 teaspoon cinnamon
3/4 cup fat-free milk
1/2 cup roasted, unsalted sunflower seeds
Directions:
1. Preheat oven to 400F.
2. Measure oil and honey in mixing bowl. Add bananas and egg, blending well.
3. In separate mixing bowl, stir together whole-wheat flour, oats, baking powder, baking soda, salt and cinnamon.
4. Add dry ingredients alternately with milk to banana mixture, stirring just until combined. Stir in sunflower seeds.
5. Spray muffin pan with non-stick cooking spray. Evenly distribute batter into muffin pans, filling each cup a generous 2/3 full.
6. Bake at 400F for approximately 15 minutes, until muffins are done and golden.
9 muffins. Per serving: 27g carbs; 4g fiber; 8g protein; 11g fat; 1g saturated fat; 349mg sodium; 21mg cholesterol; 219 calories; 98 calories from fat.
Asian Chicken and Vegetable Slaw
A modern update of the classic Oriental chicken salad, this slaw packs a powerful punch of color, crunch, flavor and nutrition.
Ingredients:
4 cups finely sliced Napa cabbage
2-1/2 cups finely sliced red cabbage
1 cup shredded carrots
1 cup sliced green onions
1 cup sliced red bell pepper
1/4 cup fresh cilantro leaves
2 cups chopped, cooked chicken breast
1/2 cup roasted peanuts
1/2 cup rice wine vinegar
2 tablespoons peanut oil
2 tablespoons freshly squeezed lemon juice
2 tablespoons soy sauce
1 tablespoons honey
1/2 teaspoon black pepper
1/2 teaspoon fresh minced ginger
2 tablespoons sesame seeds
1 Serrano chili, seeded and finely diced
Directions:
1. To large salad bowl, add Napa cabbage, red cabbage, carrots, onions, bell pepper, cilantro, chicken and peanuts, combining well.
2. In small bowl, whisk together vinegar, peanut oil, lemon juice, soy sauce, honey, black pepper, ginger, sesame seeds and chili.
3. Pour over slaw and toss to distribute dressing. Chill until serving time.
Approximately 12 1-cup servings. Per serving: 10g carbs; 2g fiber; 10g protein; 7g fat; 1g saturated fat; 401mg sodium; 20mg cholesterol; 138 calories; 59 calories from fat.
South of the Border Bean Salad
A jumble of colorful flavors, textures, and flavors, this high-fiber, nutrient-packed salad is the perfect accompaniment to a Mexican grill fiesta.
Ingredients: 
1 5-ounce can garbanzo beans, rinsed and drained
1 15-ounce can kidney beans, rinsed and drained
1 cup yellow and red cherry tomatoes, halved
1 cup chopped cucumbers
1/4 cup diced green onion
1 avocado, peeled and chopped
1/4 cup black olives, sliced
1 cup green bell pepper, chopped
1 Anaheim chili pepper, seeded and finely diced
2 tablespoons lemon juice
1 tablespoon corn oil
1 teaspoon chili powder
1/2 teaspoon salt (optional)
1/2 teaspoon black pepper
1 clove garlic, minced
Directions:
1. In large mixing bowl, combine garbanzo beans, kidney beans, tomatoes, cucumbers, green onion, avocado, olives, bell pepper and chili pepper.
2. In small bowl, whisk together lemon juice, corn oil, chili powder, salt, black pepper and garlic.
3. Pour dressing over salad and toss. Chill until serving time.
6-1/2 cups (13 1/2-cup servings). Per serving: 10g carbs; 4g fiber; 3g protein; 4g fat; 1g saturated fat; 194mg sodium; 0mg cholesterol; 87 calories; 37 calories from fat.
---
The opinions expressed in this article are of the author and the author alone. They do not reflect the opinions of SheKnows, LLC or any of its affiliates and they have not been reviewed by an expert in a related field or any member of the SheKnows editorial staff for accuracy, balance or objectivity. Content and other information presented on the Site are not a substitute for professional advice, counseling, diagnosis, or treatment. Never delay or disregard seeking professional medical or mental health advice from your physician or other qualified health provider because of something you have read on SheKnows. SheKnows does not endorse any specific product, service or treatment.