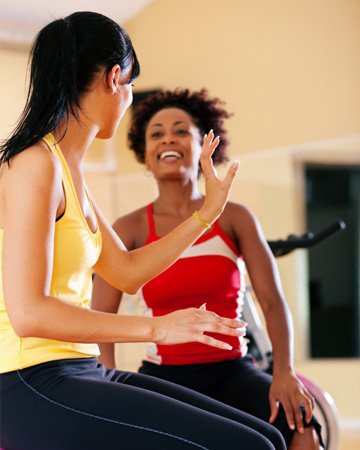 Exercise during happy hour!
Instead of drinking and eating during happy hours or business meetings, propose a workout class!
Family. Friends. Dating. Work. The list of what women have to squeeze into 24 hours is ever-growing. Trying to fit in a workout and maintaining a healthy lifestyle often seems impossible.
Those early-morning hours are used for precious sleep, while the time after work is used for essential schmoozing. Happy hour and boozy dinners have become key in the business world to stay one step ahead in competitive markets. With this process such an integral element of future success, many women have discovered a way to incorporate work into a workout: Invite clients and colleagues to a fitness class!
Hot and sweaty trend
With such a variety of workout classes available, more and more women are suggesting participating in a class to stand out from the typical after-work drinks. Does a client compete in obstacle course challenges on the weekends? Suggest a boot camp class. Did a business contact mention a recent bike trip? Try proposing a spin class. " 'Sweat-working' is the hot new thing," says Joey Gonzalez, celebrity trainer, partner & COO of Barry's Bootcamp. "It not only provides a healthy alternative to dinner and drinks, but also an environment to meet like-minded professionals with similar goals."
New routine, new business
A health-conscious lifestyle instead of late-night boozing is becoming popular among working professionals. By being aware that a client might not want to drink, you take into consideration his or her personal passions. This is an excellent way to begin and maintain a solid connection. "While my clients and I love a good cocktail, many of us have grown tired of the same old drinks meeting," says Alexa Batista, a sales professional in New York City. "We are trying to live more active and healthy lifestyles. By going to a spin class like Soul Cycle together we are doing something different that we enjoy."
Shaking things up in both a fitness regimen and a business relationship can yield some pretty incredible results. Not only does adding a new workout buddy help you push harder, but stepping outside of the box when it comes to connecting with a new or potential colleague can help advance your career. "I love proposing something active and fun with a new client or business associate," says Jackie Lann Brockman, president of the Narrative Group. "It is a great way to start a working relationship."
Building a bond
Any type of relationship boils down to effective communication. Without a flow of dialogue, conversations become stale, and bonds can break down. Sustaining this discourse in the work force is dependent on shared interests and diversity in discussion. "Working out with a client is just another way of deepening your bond. If you have a shared interest in an activity, then you have more to talk about and connect on," says Batista.
Not to mention that exercise releases natural endorphins. When both parties share this "high," it creates an instant positive experience. "Bringing someone to a popular, sought-after group fitness class is a total dynamic changer and it makes you feel like you have both accomplished something that day," says Brockman. "It's also a great way to burn some calories instead of going for drinks or dinner."
Calorie count
Numbers, numbers, numbers: Clients want to see measurable results, and you want to see less on the scale. Beyond the added benefits of building unique and stronger relationships with your business contact, the simple math of choosing cardio over cocktails is undisputable. Just two drinks can add up to between 200 and 650 calories, so it's easy for them to add up to 3,500 calories, or one pound gained.
On the other hand, 45 minutes of interval training, according to David Nieman, author of Exercise Testing and Prescription, can burn an average of 400 calories. That's a loss of one pound in just nine sweat sessions. "Working out with someone is a great way to burn calories," says Rebecca Goodman, a public relations consultant. "It makes for a healthy lifestyle, a healthy weight and healthy conversation. How can you beat that?"
More fitness tips
Fitness tips for women working out over 50
8 Perfectly acceptable reasons for not working out today
Getting the most out of your running routine
---
The opinions expressed in this article are of the author and the author alone. They do not reflect the opinions of SheKnows, LLC or any of its affiliates and they have not been reviewed by an expert in a related field or any member of the SheKnows editorial staff for accuracy, balance or objectivity. Content and other information presented on the Site are not a substitute for professional advice, counseling, diagnosis, or treatment. Never delay or disregard seeking professional medical or mental health advice from your physician or other qualified health provider because of something you have read on SheKnows. SheKnows does not endorse any specific product, service or treatment.