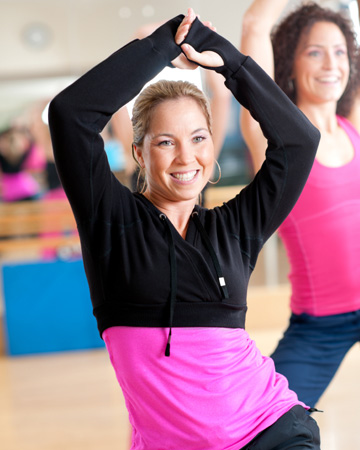 Awesome truth behind the fun new workout
Nothing that's so fun could possibly be good for you, right? Think again! Zumba is the answer to having fun and losing weight.
If you're looking for a way to keep your New Year's weight loss resolution without letting the monotony set in, Zumba is the way to go. But just how many calories can you burn? That depends on a few factors, but the average is between 500 to 1,000 calories per hour of Zumba. That might seem like a long time, but it's not when you consider just how much fun you'll have during those 60 minutes. But why such a vague number?
Weight loss factors
Calculating weight loss based on an activity isn't as hard and fast as some people make it seem. One big factor in calories burned is the weight of the person who is doing the exercising. Ever notice how the contestants on The Biggest Loser drop the most pounds at the very beginning of the show? There are plenty of factors involved there but the most obvious one is that the more you weigh, the more energy it takes to do a workout. The 200-pound body exerts a lot more effort during a Zumba workout than a 100-pound body. That's also why as you lose weight you'll find you need to increase the number of workouts you're doing.
Intensity
Even when factoring in your weight, you're still not necessarily getting the most accurate results. Why? Just like with spiciness or painting classes, there are different levels of intensity. If a moderately healthy 30-year-old inadvertently signed up for the SilverSneakers Zumba class (which is geared toward seniors), they're probably not doing as an intense a workout as that of a younger, more advanced class. Not sure how intense your workout is? The faster and bigger your moves, the more calories you burn.
Just give me the numbers!
We found this handy-dandy calculator tailored directly to Zumba calories burned and pulled a few numbers for you, just to give you an idea. All of these calorie counts are based on a mid-level workout, meaning you could still chat with a buddy during the workout. If you're really breathless and sweating it out, you could lose up to another 100 additional calories, depending on your weight.
100 pounds (30 minutes) — 179
100 pounds (60 minutes) — 357
130 pounds (30 minutes) — 232
130 pounds (60 minutes) — 464
150 pounds (30 minutes) — 268
150 pounds (60 minutes) — 536
180 pounds (30 minutes) — 321
180 pounds (60 minutes) — 643
210 pounds (30 minutes) — 375
210 pounds (60 minutes) — 750
250 pounds (30 minutes) — 447
250 pounds (60 minutes) — 893
Pretty cool, right? Now put on those sneakers and get to dancin'!
More about Zumba
30-Minute mini Zumba routine at home
How to stick to your workout routine
Zumba moves that make you feel like Beyoncé
---
The opinions expressed in this article are of the author and the author alone. They do not reflect the opinions of SheKnows, LLC or any of its affiliates and they have not been reviewed by an expert in a related field or any member of the SheKnows editorial staff for accuracy, balance or objectivity. Content and other information presented on the Site are not a substitute for professional advice, counseling, diagnosis, or treatment. Never delay or disregard seeking professional medical or mental health advice from your physician or other qualified health provider because of something you have read on SheKnows. SheKnows does not endorse any specific product, service or treatment.