Causes And Solutions
There is no one reason why runners get injured, but a pretty consistent interaction of factors plays a role in most runner injuries.
(page 7 of 7)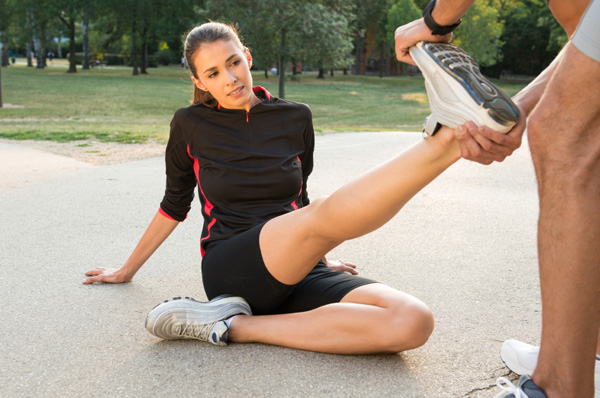 6
Problem: Achilles tendinitis
Achilles tendinitis is an overuse injury of the large tendon that attaches your calf muscles to your heel bone. It most commonly occurs in runners who have suddenly increased the intensity or duration of their runs.
Causes: One primary factor related to most Achilles tendinitis cases is a lack of flexibility in the calf muscles. Stretching these muscles, however, will only make the condition worse. This is the one time when you should wait to stretch until the acute soreness is gone.
Another cause of Achilles tendinitis is excessive shoe wear or wearing shoes with an inappropriate amount of motion control. Shoes that are too rigid and shoes that are too soft can contribute to the onset of Achilles tendinitis. It pays to get fitted for a running shoe that is correct for your biomechanics.
Other factors related to the onset of Achilles tendinitis include doing too much speed work or hill work in a short amount of time, increasing your mileage too soon and biomechanical factors like excessive pronation or high arches.
Solution: Inserting a small heel lift into your shoes can provide temporary relief (use a heel lift in both shoes to avoid causing other problems). After the pain subsides, you can stretch the calves and Achilles tendons. Until the pain is gone, take a break from running and any other activities that aggravate the condition. Then reduce your overall mileage as well as your speed and hill work. Ice and massage the calves and Achilles tendons several times per day. Night splints, such as the Strassburg Sock, can also help keep the Achilles tendons and calves stretched while you sleep. If these at-home treatments do not provide relief, physical therapy may help.
More on running
From A to DD: Choosing the right sports bra
Why running skirts are a girl's best friend
What to eat the day of a race
---
The opinions expressed in this article are of the author and the author alone. They do not reflect the opinions of SheKnows, LLC or any of its affiliates and they have not been reviewed by an expert in a related field or any member of the SheKnows editorial staff for accuracy, balance or objectivity. Content and other information presented on the Site are not a substitute for professional advice, counseling, diagnosis, or treatment. Never delay or disregard seeking professional medical or mental health advice from your physician or other qualified health provider because of something you have read on SheKnows. SheKnows does not endorse any specific product, service or treatment.