Causes And Solutions
There is no one reason why runners get injured, but a pretty consistent interaction of factors plays a role in most runner injuries.
(page 4 of 7)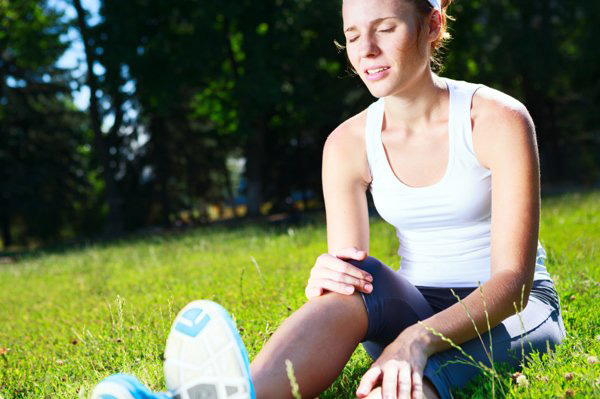 Runner's knee, the common nickname for patellofemoral pain syndrome (PFPS), refers to pain in and around the kneecap, or patella. The pain can be sharp and sudden or dull and chronic, and it may disappear while you're running, only to return again afterward. Steps, hills and uneven terrain can aggravate PFPS.
Patellofemoral pain syndrome can occur in one or both knees. It typically manifests in younger, recreational runners and in twice as many women as men. This is because women tend to have wider hips, which ultimately puts more stress on the kneecap.
Causes: Runner's knee can be attributed to several things, and pinpointing the exact cause can be difficult. One cause is limited flexibility in the quadriceps, hamstrings or calves. Muscle weakness, particularly in the hips and quadriceps, may also play a role. Biomechanical faults like excessive pronation, worn-out or improper shoes and training errors such as doing too much speed or hill work or increasing mileage too quickly can also contribute to runner's knee.
Solution: To ease the pain of runner's knee, start by stretching, massaging and foam-rolling tight muscles — particularly the quadriceps, hamstrings and calves. Examine your shoes for excessive wear and replace them if needed. Rest and reduce hill work, speed work and overall mileage until the pain subsides. Ice the knee(s) several times per day. Strength training can be very effective at easing the pain of runner's knee, as it often is a symptom of weak muscles. Focus on the hip muscles and quadriceps in particular. Orthotics may also help control excessive pronation. Finally, if these at-home solutions do not provide relief from runner's knee, physical therapy may help.
---
The opinions expressed in this article are of the author and the author alone. They do not reflect the opinions of SheKnows, LLC or any of its affiliates and they have not been reviewed by an expert in a related field or any member of the SheKnows editorial staff for accuracy, balance or objectivity. Content and other information presented on the Site are not a substitute for professional advice, counseling, diagnosis, or treatment. Never delay or disregard seeking professional medical or mental health advice from your physician or other qualified health provider because of something you have read on SheKnows. SheKnows does not endorse any specific product, service or treatment.