Causes And Solutions
There is no one reason why runners get injured, but a pretty consistent interaction of factors plays a role in most runner injuries.
(page 3 of 7)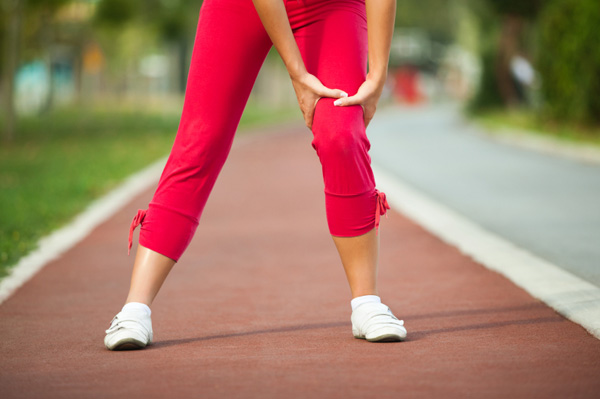 2
Problem: IT band syndrome
Illiotibial band syndrome (ITBS) is an irritation or inflammation of the illiotibial band, most commonly on the outside of the knee or just below the knee. This is one of the most common overuse injuries among runners. The illiotibial band is a long, thick band of fascia that runs from the outer hip area to the outside of the knee and attaches to the lower leg bone just below the knee. It crosses both the hip joint and the knee joint and is therefore important in the actions of both. If you have ITBS, it is typically painful when the knee bends more than 45 degrees.
Causes: ITBS can be caused by poor biomechanics, such as excessive pronation, worn-out or inappropriate shoes or training errors like too much speed work or increasing mileage too quickly. Running downhill a lot, running on banked or sloped surfaces or running too many track workouts in the same direction can also lead to ITBS. Often, ITBS is caused by inadequate flexibility or tight muscles, particularly the calf muscles, gluteal (buttock) muscles, lateral hip muscles and outer thigh muscles. Hamstrings and quadriceps may also be involved.
Solution: Once you notice ITBS pain, resting is the best line of defense in preventing it from getting worse. Stretching, massaging and foam-rolling the IT band, calf muscles, hamstrings, quadriceps and hips will also bring some relief. Replace worn-out shoes and address any biomechanical issues you may have. Changes in footwear or orthotics may help. Also, strengthening weak muscles, especially the hips, can help your ITBS get better and prevent it from recurring. If your ITBS becomes severe and/or chronic, one last option is surgery to release and mobilize the IT band.
---
The opinions expressed in this article are of the author and the author alone. They do not reflect the opinions of SheKnows, LLC or any of its affiliates and they have not been reviewed by an expert in a related field or any member of the SheKnows editorial staff for accuracy, balance or objectivity. Content and other information presented on the Site are not a substitute for professional advice, counseling, diagnosis, or treatment. Never delay or disregard seeking professional medical or mental health advice from your physician or other qualified health provider because of something you have read on SheKnows. SheKnows does not endorse any specific product, service or treatment.