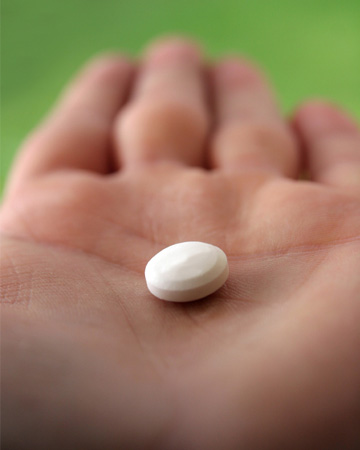 Will U.S. find the same in Plan B?
A European emergency contraception pill made with the same active ingredient as Plan B isn't effective in heavier women, the drug maker finds.
Does the "morning-after pill" work effectively regardless of your weight? Perhaps not.
The manufacturer of a European emergency contraceptive pill, Norlevo, found the drug was "not effective" for women over 176 pounds. HRA Pharma, which produces the drug, said it also does not work as effectively in women who weigh in at more than 165 pounds.
Studies in the past have found that oral contraceptives take longer to reach normal levels in the blood, which may explain why they have not always been as effective in heavier women.
What's the tie to women in the U.S.? Well, the drug is made from levonorgestrel, a synthetic hormone that's in Plan B One-Step.
FDA will see if Plan B label needs to reflect European findings
While it's perhaps too soon to say if the same evidence is true for the U.S. emergency contraception, the Food and Drug Administration (FDA) isn't taking any chances. It says that it is investigating whether the labels need to be changed on Plan B One-Step.
"The FDA is currently reviewing the available and related scientific information on this issue, including the publication upon which the Norlevo labeling change was based," said Erica Jefferson, an FDA spokesperson. "The agency will then determine what, if any, labeling changes to approved emergency contraceptives are warranted."
Jefferson adds that a weight-related evaluation was not included in the drug's original approval.
Dr. Carolyn Westhoff, a professor of obstetrics and gynecology at New York-Presbyterian Hospital/Columbia University Medical Center, said women shouldn't be too alarmed until the FDA reaches a decision.
"This is just a single result and we don't have any way to replicate it," she said.
Other options for women who weigh more?
Worried that you may be at risk for a pill malfunction?
Kelly Cleland, a public health expert at Princeton University, said that overweight women who are concerned about the pill's effectiveness may want to utilize emergency contraceptive with ulipristal acetate or turn to a copper intrauterine device (IUD) for protection. It can be inserted by a doctor up to five days after unprotected sex to help prevent pregnancy.
Related news
Could birth control make you go blind?
How to prepare your daughter for her first visit to the gynecologist
Why a big breakfast can boost fertility
---
The opinions expressed in this article are of the author and the author alone. They do not reflect the opinions of SheKnows, LLC or any of its affiliates and they have not been reviewed by an expert in a related field or any member of the SheKnows editorial staff for accuracy, balance or objectivity. Content and other information presented on the Site are not a substitute for professional advice, counseling, diagnosis, or treatment. Never delay or disregard seeking professional medical or mental health advice from your physician or other qualified health provider because of something you have read on SheKnows. SheKnows does not endorse any specific product, service or treatment.