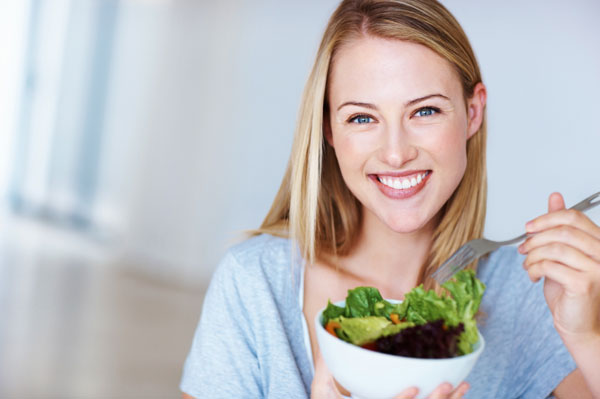 Eating healthy is easier than you think
We all know we should eat more fruits and vegetables. But that's often easier said than done. How much should we eat, and what matters most when preparing it? Here are some extra tips on how you can easily incorporate more healthful foods in your meals.
It starts at home with your grocery list and ends with what you put in your mouth. Eating right is a process, and at any point in that process, things can get off track.
"I always tell patients that you have to first purchase the right food, prepare it the right way and then consume it the right way," says Sharon George, a registered dietitian and nutritionist at The New York Bariatric Group.
Often what determines whether you eat well or not lies in the smaller choices we make. Here are some tips from nutritionists on how you can live a more healthful life through the choices you make.
Do your homework
"The better prepared you are, the less chance you have of grabbing the wrong food in desperation."
Make a list before you go to the grocery store based off meals you want to prepare during the week. Planning ahead ensures you aren't buying random types of food and then struggling to find a healthful meal during crunch time.
"The better prepared you are, the less chance you have of grabbing the wrong food in desperation," George said.
Also, check food labels to make sure you're purchasing foods that are of good quality, meaning 5 percent or less in total fat and total carbohydrates, George said.
Prepare them well
Rather than frying or using oils, which can turn some of the best foods into the worst foods nutritionally, try baking, broiling, grilling, steaming or poaching food, George said.
Think about how you eat
Are you a fast eater or a slow eater? Are you a mindless eater, not sure of how much you really consume?
"Try not to do other tasks while eating," George advises. "Set yourself up to enjoy a meal and listen to body cues when you feel full."
If you don't experience fullness, then eat part of the meal and then take a 5- to 10-minute pause. Once 30 minutes is up, the meal is over, she said. "Try hard to stop grazing throughout the day - make meal time count."
Be sneaky
Adding extra veggies and fruits into your diet is easier than you think, Ficek said.
"Add apple chunks, pineapple, grapes or raisins to tuna or chicken salad," she said. "This adds a great tasting, fresh component to high protein dishes."
Also, add extra vegetables, such as grated zucchini or carrots, spinach, kale and bell peppers, to pasta sauces and soups. It's an easy way to develop more flavor and get an extra serving of veggies.
"This is especially helpful when trying to get kids to eat their vegetables," she said.
Keep track
We know to eat more fruits and vegetables, but how much? Rene Ficek, a registered dietitian and the lead nutrition expert for Seattle Sutton's Healthy Eating, advises keeping track of how many servings you need and how many you get.
For the 2,000-calorie-per-day diet, the latest guidelines recommend a minimum of 2 cups of fruit and 2-1/2 cups of vegetables a day, she said.
Let other people do the work
If convenience is a factor, Ficek suggests letting others do the work.
"Food companies and grocers offer an ever-expanding selection of prepared produce," she said. "Sliced veggies and prepared dips like hummus are great to have on hand at all times."
More healthful eating articles
5 Food priorities for healthy eating
Grocery store tips for healthy eating
12 Tips to eating out healthfully
---
The opinions expressed in this article are of the author and the author alone. They do not reflect the opinions of SheKnows, LLC or any of its affiliates and they have not been reviewed by an expert in a related field or any member of the SheKnows editorial staff for accuracy, balance or objectivity. Content and other information presented on the Site are not a substitute for professional advice, counseling, diagnosis, or treatment. Never delay or disregard seeking professional medical or mental health advice from your physician or other qualified health provider because of something you have read on SheKnows. SheKnows does not endorse any specific product, service or treatment.