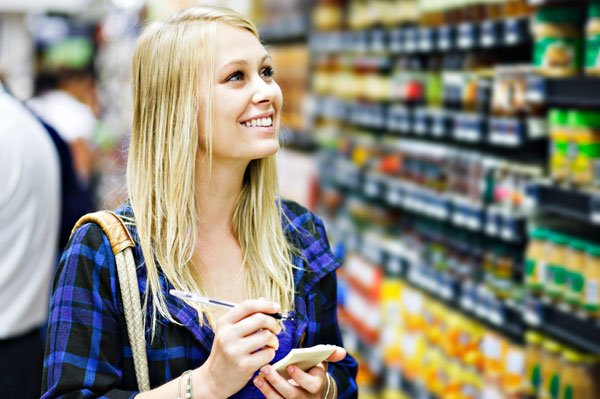 Penny-pinching and waist-cinching
All too often, our choices in the grocery store reflect our budgetary constraints. But with our expert tips, you won't have to sacrifice nutrition just because you're on a tight budget.
Linda Watson knows how to pinch pennies without sacrificing nutrition. She's the author of Wildly Affordable Organic, which teaches readers how to "eat fabulous food, get healthy, and save the planet — all for less than $5 a day." Not only that, Watson practices what she preaches. She recently embarked on a two-week challenge to eat nutritiously on a food-stamp allowance and managed to do so successfully. Watson graciously offered us her expert tips for nutritious eating on a dime.
Think outside the big box
Large grocery stores are certainly convenient, but they're not always the cheapest or healthiest places to do your grocery shopping. Watson recommends the following ways to reduce your grocery bills by shopping off the beaten path:
Eat locally grown and in-season food that you can find at a farmers market. Farmers markets will reduce your overhead costs of transporting and stocking your food.
Shop ethnic aisles or stores. You can often find produce and spices at just a fraction of the cost if you go to specialty ethnic stores.
Don't waste time cutting coupons. Sure, you can save some money, but think about whether or not the products you're actually purchasing with those coupons are a healthy option. Watson recommends using the time you spent clipping coupons to bake bread or start a slow-cooker meal.
Avoid large processed-food purchases. Grocery stores are full of unhealthy choices like chips and processed cereals. These products are nutritionally void.
Savvy and resourceful savings
Sometimes, eating nutritiously on a budget is about how you use the food you've already purchased. Make sure you're maximizing all of the items you buy so nothing goes to waste.
If you bought it, use it. Cook the stems from greens like kale, collard and chard.
Cook a pot of dried beans at least once per week. They're extremely cheap, low in fat and high in protein and fiber. Eat the beans throughout the week and freeze, if necessary, for the following week.
Start a stoup container. A stoup is a mixture between a soup and stew and is made from the leftovers that accumulate in the fridge before they're thrown away. Combine the leftovers each day and freeze. Thaw overnight when the container is full and then taste it. Watson swears that her stoup usually tastes like minestrone!
Tricks of the trade
Watson gave us a few additional pointers to find high-quality nutrition at the cheapest prices. She also pointed us toward the organic foods that will give you the most bang for your buck.
Organic carrots, garlic and onions are wildly affordable. Apples and potatoes are slightly more expensive, but they're worth the price because you'll be eating the peel.
Don't purchase organic when you can't eat the peel of the produce anyway. Organic oranges or bananas aren't worth the extra price because you won't be eating the peel.
Go vegetarian a couple of nights a week. Beans are full of protein and just a fraction of the price of meat.
Good luck with your culinary adventures!
Tell Us:
How has your family stayed healthy while sticking to a budget?
More from Diet & Fitness
Best yoga poses for athletes
6 Foods a nutritionist has in their kitchen
5 Guilt-free snacks for grownups
---
The opinions expressed in this article are of the author and the author alone. They do not reflect the opinions of SheKnows, LLC or any of its affiliates and they have not been reviewed by an expert in a related field or any member of the SheKnows editorial staff for accuracy, balance or objectivity. Content and other information presented on the Site are not a substitute for professional advice, counseling, diagnosis, or treatment. Never delay or disregard seeking professional medical or mental health advice from your physician or other qualified health provider because of something you have read on SheKnows. SheKnows does not endorse any specific product, service or treatment.