How our foremothers did it (literally)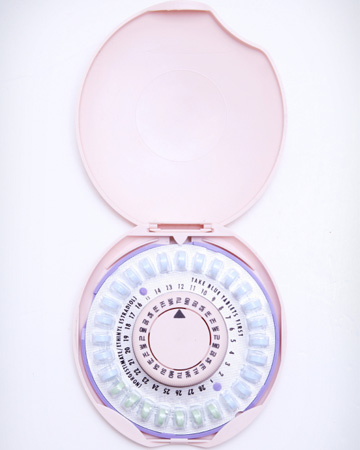 Sure, the pill can cause nausea, bloating and headaches — but would you rather try to prevent pregnancy using crocodile poop? Yep, you heard me: Crocodile. Poop. Or how about using half a lemon so afterward you smell like a really clean kitchen? (Suddenly, Seinfeld's Elaine Benes deciding whether or not a guy is "sponge-worthy" doesn't seem so crazy after all.) Review these shenanigans, and more, as we look back at the life and times of birth control.
Though I'm sure nothing turned a woman on more than using the term "womb veil," this much I know: If I were born any sooner, I would've become Sister Mary Krissy.
From past to present, below is a highlight reel of contraception contraptions that will leave you skipping down the condom aisle singing "The hills are alive... "
1550 B.C.
The earliest known contraception for women was created — a concoction of crocodile poop, honey, and sodium carbonate, the Egyptian pessary was inserted into the vagina to prevent conception. (Oh. Em. Gee.)
1564
The first description of condoms was published by Gabriel Fallopius, who also discovered (you guessed it!) Fallopian tubes. Materials for condoms included animal intestines and skin, along with linen cloth sheaths soaked in a chemical solution. (Is that the sound of my tubes tying?)
1700s
Casanova's memoirs detail his escapades and experiments — with sheep-bladder condoms, cervical caps made from half a lemon and linen condoms tied with a ribbon. (I'll never unwrap presents the same way again.) When all was said and done, though, he preferred condoms made from lamb intestine. (Yeah, me too.) To make matters worse, because of how expensive condoms were, they were washed and reused — taking intimacy to a whole new level.
1839
Charles Goodyear invented the technology necessary to vulcanize rubber and used it to manufacture condoms, douching syringes and diaphragms (though at the time, they were being manufactured under their working title, "womb veil").
1873
The U.S. Congress passed the Comstock Act, which made all forms of contraception illegal. The postal service was actually allowed to confiscate birth control sold through the mail! Because of this, contraceptives were being promoted as "feminine hygiene products."
1916-1950
Birth control activist Margaret Sanger opened the first birth control clinic in the U.S. Nine days later, police raided the clinic. Sanger was found guilty of "maintaining a public nuisance" and served 30 days in prison. Thanks to Sanger, the Comstock Act was eventually lifted in the 1930s, and in 1950 (at 80 years old, I might add), she raised $150,000 to fund the creation the first birth control pill. (You go, girl!)
1960
The FDA approved the first birth control pill, Enovid. Later, the pill is linked to serious health risks, such as heart attack and blood clots. Feminist groups challenged their safety, which led to the pill's modification.
1965
The Supreme Court established the right for married couples to use birth control. Meanwhile, millions of unmarried women were still denied the option.
1972
The Supreme Court legalized birth control for all citizens, regardless of marital status (and uteruses everywhere rejoiced).
1976
IUD devices are approved by the FDA. The devices were inserted by doctors and were to provide birth control for up to 10 years… until the Dalkon Shield, like a one night stand gone wrong, caused pelvic inflammatory disease in some women.
1980s
Hormonal birth control options expanded and low-dose, two- and three-phase birth control pills became available. By this time, 10.5 million American women were taking the pill (cha-ching!).
1992
The FDA approved Depo-Provera, the first shot to prevent pregnancy for months at a time.
1998
The FDA approved the first morning-after pill, which can be taken up to 72 hours after unprotected sex.
2000
Jennifer Erickson, a 27-year-old pharmacist sued her employer for not covering birth control under their insurance policy, calling it sexual discrimination — and won.
2005
The Today Sponge makes a comeback after being discontinued in 1995 because of deficiencies in their manufacturing plant. (Congratulations, Elaine!)
2010
A study of 46,000 women conducted over 40 years found women on the pill live longer. (High five ladies!) Now, over 100 million women around the world use the pill.
How's that for a history lesson?
More on birth control
Common birth control misconceptions
Pass on the pill: Alternatives to birth control pills
What's the right birth control option for me?
---
The opinions expressed in this article are of the author and the author alone. They do not reflect the opinions of SheKnows, LLC or any of its affiliates and they have not been reviewed by an expert in a related field or any member of the SheKnows editorial staff for accuracy, balance or objectivity. Content and other information presented on the Site are not a substitute for professional advice, counseling, diagnosis, or treatment. Never delay or disregard seeking professional medical or mental health advice from your physician or other qualified health provider because of something you have read on SheKnows. SheKnows does not endorse any specific product, service or treatment.