Cooking Tips
And Healthy Upgrades
Our modern Thanksgiving is a day when gluttony and overindulgence are expected — and encouraged. Here we're looking at healthy Thanksgiving-day swaps!
(page 2 of 2)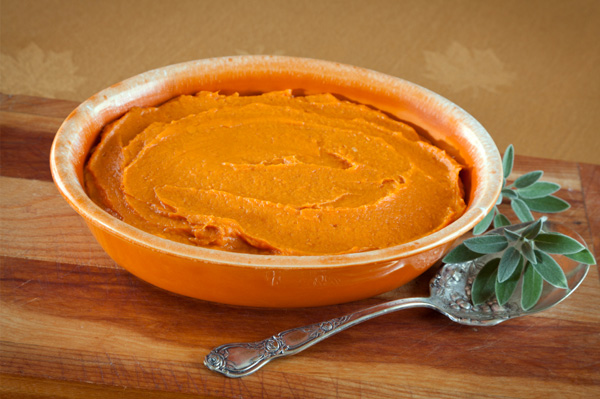 Drinks
Traditional: Spirit-based cocktails, like martinis, or fruit-juice based libations, beer and soda
Healthy upgrade: Wine, gluten-free beer and mineral water
Antioxidant-rich wines — red, sparkling, or Champagne — are linked to improved cardiovascular health when consumed in moderation. For example, Sardinian Cannonau has the highest level of antioxidants of all red wines.
Gluten-free beers — those with no wheat, barley, rye and malt — will be a welcome option for guests who have a wheat or gluten sensitivity. Try Green's, which uses alternative grains such as sorghum, millet, rice and buckwheat in their gluten-free beers.
Mineral water, plain or spritzed with lemon or lime, is the best non-alcoholic option — and one where you'll wake up hangover-free the next morning.
The turkey
Traditional: Frozen commercial supermarket turkey
Healthy upgrade: Local: Buy your bird from a local farm or farmers' market. Free-range organic turkey: Order in advance from a local farm or online. Heritage-breed turkey (based on the first breed of turkey that actually existed in the U.S.): Purchase online from Heritage Foods USA. The meat will be leaner and more flavorful.
Mashed potatoes
Traditional: Mashed white potatoes with store-bought cream and butter
Healthy upgrade: Mashed sweet potatoes. Bake, peel and mash with grass-fed butter or coconut oil. Add minced ginger root, freshly grated nutmeg or cinnamon, if desired.
Gravy
Traditional: White-flour and butter-based gravy
Healthy upgrade: Use plain turkey jus (natural juices), or thicken turkey drippings with a little arrowroot and water or chicken stock.
Cranberry sauce
Traditional: The popular Ocean Spray canned cranberry sauce contains 21 grams of sugar and 25 grams of carbs per 1/4-cup serving — and you can be sure that you're getting a good dose of BPA (bisphenol-A), an endocrine disruptor in the lining of the can. (Babies and children are especially sensitive to the effects of BPA.)
Healthy upgrade: Raw cranberry sauce. Sweeten fresh, whole cranberries naturally, with one navel orange, orange zest and coconut nectar, or raw honey. Place all ingredients in a food processor and pulse until well blended. An equivalent quarter-cup serving is relatively low in carbs and sugar, and totally BPA-free.
Green bean casserole
Traditional: A classic green bean casserole typically calls for condensed cream of mushroom soup and French-fried onions, and is chock-full of sodium, preservatives and additives — a recipe for raising your blood pressure.
Healthy upgrade: Steam green beans and toss in a vinaigrette of extra-virgin olive oil, lemon juice, mustard, garlic and fresh chopped herbs.
Pumpkin pie
Traditional: Pumpkin pie filling, typically sweetened with sugar and evaporated milk, is usually poured into a white-flour crust and served with processed whipped cream.
Healthy upgrade: Use a ground nut-based crust, like hazelnut or almond flour. For the filling, mix an organic pumpkin puree with desired spices and sweeten with a minimal amount of raw honey or Grade B maple syrup. Use coconut milk instead of regular milk to add creaminess. Another option is to serve pumpkin souffles (think of it as pumpkin pie without a crust!)
Desserts (other)
Traditional: Apple pie, pecan pie
Healthy upgrade: Baked apple compote served with raw honey-roasted walnuts (or nuts of choice)
More on healthy eating
Healthy holiday diet strategies
Holiday diet tips to keep you trim
How to make your meals healthier this holiday

---
The opinions expressed in this article are of the author and the author alone. They do not reflect the opinions of SheKnows, LLC or any of its affiliates and they have not been reviewed by an expert in a related field or any member of the SheKnows editorial staff for accuracy, balance or objectivity. Content and other information presented on the Site are not a substitute for professional advice, counseling, diagnosis, or treatment. Never delay or disregard seeking professional medical or mental health advice from your physician or other qualified health provider because of something you have read on SheKnows. SheKnows does not endorse any specific product, service or treatment.