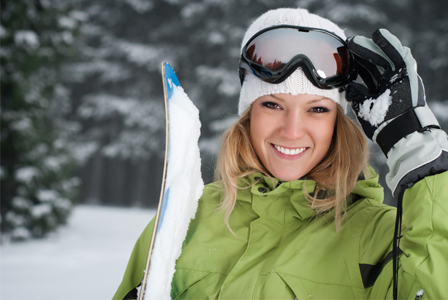 Say no to hibernation. Instead, bundle up and get outside to get moving. We're sharing six fat-blasting winter activities that will make your winter more fun.
Get in shape in winter
We asked certified personal trainer Joshua Duvauchelle to share some of his favorite ways to burn calories in the winter.
Whether you hit the ice solo or with your family, skating is a quintessential winter activity — and one that can tone your body as well as burn calories. "A 150-pound person will see up to 400 calories burned in an hour of ice skating, depending on how fast they're skating," notes Duvauchelle. "This exercise obviously works the legs, but it's also great for targeting your core muscles. That's because those thin skates force your entire body to work harder at staying balanced and stabilized." If you haven't skated in a while, start slow and work your way up to moving across the ice faster each time.
While it's hard to project exactly how many calories you'll expend snowboarding, since there are factors such as length of the run, speed and whether your movement is continuous, Duvauchelle tells us that your calorie burn on the slopes can range anywhere from 400 to 1,000 calories per hour, depending on what you're doing. "The best thing about this sport is that the act of maneuvering the snowboard with your feet forces some of the biggest muscle groups in your body to work hard, thus really revving your metabolism," he explains. "You'll likely feel the burn in areas like your quads and hamstrings. Plus, the excitement and thrill of moving quickly across the mountain, and the resulting release of endorphins, may help boost your mood."
Looking for a great way to get active as a family this winter? If you've got kids, sledding is an ideal way to spend time together while blasting calories. In an hour a 150-pound person can burn between 350 and 450 calories (or more, depending on how hard you're working), notes Duvauchelle. "All that pushing and pulling after the sled ride down the hill really works your legs and arms, and holding onto the sled during the actual ride can work as a nice exercise for your core and back," he says.
Take in some pretty winter scenery and get some fresh air while also getting a great workout. "Pull on a pair of snowshoes and hit your favorite trail. There's something peaceful and serene about walking through a snow-covered hike, but there's definitely nothing serene about the workout," affirms Duvauchelle. "Snowshoeing targets your thighs and calves, so you'll feel the fitness burn even though it's chilly out," he explains. "The average 150-pound woman can expect to burn 500 or more calories per hour of snowshoeing, depending on the hike incline, intensity and similar factors."
If you're looking for a new winter activity to try that also helps get you on shape, Duvauchelle suggests curling. "You've seen curling in the Olympics, but you don't need to be the world's best athlete to have fun with this sport. You can buy a curling set or rent one from some sport shops," he says. "In an hour, you could burn 200 or more calories as you hurl that heavy rock across the ice or sweep the ice while a friend slides the rock around." Since curling is a team sport, there might even be more motivation to work out since you'll be having fun with friends.
Your driveway needs clearing anyway, and as tedious as it can be, why not turn it into a workout? "Shoveling snow out of your yard for about an hour will burn approximately 400 calories and is a great workout for your biceps, triceps and other arm muscles," says Duvauchelle. Clearing your driveway can also work your shoulders and back, but be careful to bend at the knees when lifting the heavy shovel to avoid injury.
Bonus: Walk your dog
Duvauchelle reminds us that man's best friend needs exercise, too. "As Fido gets a workout, so do you. The typical 150-pound person can aim to burn just a little over 200 calories while walking her dog."
More fitness tips
A guide to toning trouble spots from your 20s to your 40s
Workout myths that may fake out your fitness plan
6 Exercises that banish belly fat
---
The opinions expressed in this article are of the author and the author alone. They do not reflect the opinions of SheKnows, LLC or any of its affiliates and they have not been reviewed by an expert in a related field or any member of the SheKnows editorial staff for accuracy, balance or objectivity. Content and other information presented on the Site are not a substitute for professional advice, counseling, diagnosis, or treatment. Never delay or disregard seeking professional medical or mental health advice from your physician or other qualified health provider because of something you have read on SheKnows. SheKnows does not endorse any specific product, service or treatment.