Keeping Your Children Safe From Allergies
Sept. 19 is known as the "September epidemic" in the medical world, thanks to its reputation as the worst day of the year for allergies and related asthma attacks. It sounds ominous, but there are ways to cut the risks and keep your children healthy — and safe.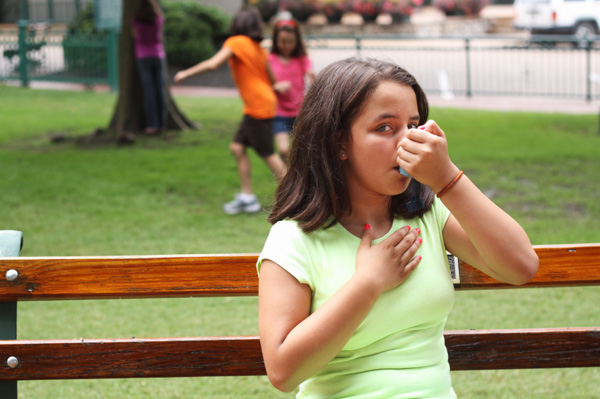 Sept. 19 might seem like a regular ol' day, but it's known in the medical world as the worst day of the year for allergies and allergy-related asthma attacks.
"Clinical studies have shown that asthma symptoms peak 17 days after the first day of school due to a confluence of three triggers: viral infection, fall allergies and environmental irritants," says Robert Reinhardt, M.D., associate professor of Family Medicine at the Michigan State University College of Human Medicine. "Many parents don't realize that their child's classroom can contain a number of indoor allergens such as dust mites or cockroaches."
These external factors can act together to create a "perfect storm" of asthma triggers, he says. However, Dr. Reinhardt adds that while it's not possible to eliminate all triggers and irritants, there are ways to limit your child's exposure.
How parents can cut their child's asthma risk at school
A simple blood test can pinpoint exactly which allergens your child is most sensitive to, says Dr. Reinhardt.
"The key to effectively reducing your child's exposure to allergens is to know which triggers to specifically target," he told SheKnows. "If you're unsure about your child's risk, speak with your doctor — 90 percent of children with asthma have underlying allergic triggers. Together, you and your family clinician can study the results and create a customized plan to better manage your child's allergic asthma."
Schools in the United States are hotbeds of potential respiratory allergens, including dust mites, pet dander, mold and even cockroaches and mice. You won't really know what you're facing without doing a little research.
"Talk to your child and spend time at his or her school to determine which triggers are present," advises Dr. Reinhardt. "If something is creating an unhealthy environment for students, get together with other concerned parents and demand to have it cleaned up. Triggers such as mold and cockroaches can actually contribute to allergies, respiratory irritation and infection, and they may not be expensive to eliminate."
You should also start educating your children at a young age.
"Since you can't be by their side at all times, it's a good idea to teach kids how to recognize and avoid their triggers," he says. "The same goes for good hygiene: Hand washing can go a long way toward preventing the spread of infection in schools."
Reduce allergy risk factors at home
It's next to impossible to eliminate all dust mites from schools, but reducing exposure at home is much easier.
"Allergen-proof pillowcase covers can dramatically reduce exposure to dust mites," adds Dr. Reinhardt, "and since allergy symptoms usually occur because of cumulative exposure, allergen avoidance at night may help a child feel better all day long."
The same is true for mold and other allergens.
"It may be easier to control mold in a bathroom or bedroom than in your child's school," he says.
Other ways to prevent allergy-related asthma attacks
The most important thing to remember is that allergies — and asthma attacks — can happen at any time of the year, not just on Sept. 19.
"In colder parts of the country, exposure to indoor allergens can increase as winter arrives and kids spend even their extracurricular time indoors," Dr. Reinhardt says. "As with any illness, the more you know, the better you can prepare yourself — so use communication, awareness and, if necessary, allergy testing."
More on children's health
Want taller children? Drink milk, researchers say
All about juvenile idiopathic arthritis
Smartphone apps to track your child's yearly checkups
---
The opinions expressed in this article are of the author and the author alone. They do not reflect the opinions of SheKnows, LLC or any of its affiliates and they have not been reviewed by an expert in a related field or any member of the SheKnows editorial staff for accuracy, balance or objectivity. Content and other information presented on the Site are not a substitute for professional advice, counseling, diagnosis, or treatment. Never delay or disregard seeking professional medical or mental health advice from your physician or other qualified health provider because of something you have read on SheKnows. SheKnows does not endorse any specific product, service or treatment.