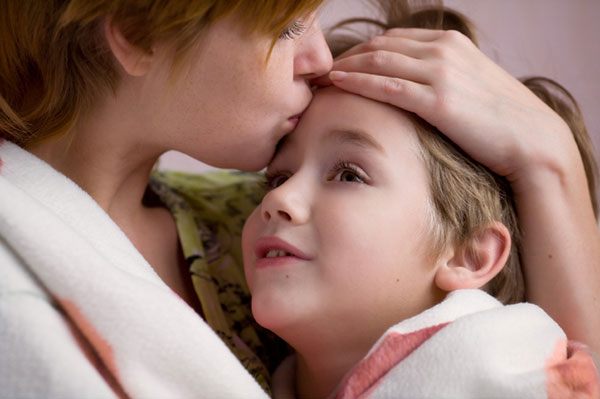 Causes and treatments for tummy aches
When your child isn't feeling well, your first instinct may be to call the doctor. However, mild abdominal pain and other tummy troubles typically can be treated at home with over-the-counter medications, home care remedies and/or rest.
Tummy ache causes
Stomach aches can be caused by a number of things, including acid reflux, constipation, food allergies/intolerance, food poisoning, gas, indigestion and stomach flu. More serious (but rare causes) include appendicitis, bowel obstruction, Crohn's disease, tumors and other infections.
Generalized pain is typical of gas, indigestion or a stomach virus. Localized pain could be a sign of appendicitis or a problem with another particular organ such as the gall bladder. Cramps are often due to gas and can be followed by diarrhea. Of course, cramps can also occur when girls are experiencing PMS or menstruation as well.
Tummy aches are often the sign of intestinal gas. Some kids are just gassier than others. However, gas is often the result of a high-fiber diet or eating too quickly (swallowing a lot of air). Stomach pain associated with gas usually subsides when the gas is passed.
Stomach pain can also be due to constipation. Children often get constipated if they have too little fiber in their diet or they aren't drinking enough water. Too much milk can also cause painful constipation in some children. When a child is constipated, bowel movements can be painful. So often he avoids going to the bathroom the next time — which causes even more constipation and pain. Treatment for constipation includes prune, pear and other fruit juices, as well as extra fiber. Encourage your child to try to use the bathroom and check with your doctor if an OTC stool softener may be necessary.
Tummy ache treatments
If your child is experiencing tummy troubles, he should lay down quietly and sip water. Ask your child to try to have a bowel movement. For the first two or three hours, avoid solid foods and then begin feeding your child a mild diet that includes applesauce, crackers or plain rice. Avoid carbonated beverages, dairy products, fruits and fruit juices and fried foods.
Do not treat your child's tummy ache with OTC pain relievers or other medications, unless instructed by a doctor.
When to call the doctor
Most of the time tummy troubles will go away without a doctor's visit. However, there are some symptoms that could be a sign of something more serious. If your child experiences any of the following, give your doctor a call.
Pain does not subside within 24 hours.
Pain becomes more severe, sudden or sharp, or localizes to a particular area of the abdomen.
Pushing on the stomach increases the pain.
The stomach looks swollen or feels hard and rigid.
The child has had a recent accident or injury to the abdomen region.
The child is experiencing trouble breathing.
Blood is present in the child's vomit or stool.
Dealing with diarrhea
A number of things can cause diarrhea — from the stomach flu to food allergies and too much juice to bacterial infections. If your child has a tummy ache and diarrhea, consider what he has eaten recently that may have caused the issues. Give your child plenty of clear liquids and keep his diet bland. If the diarrhea continues, he develops a fever or becomes dehydrated, call your doctor. Signs of dehydration include infrequent, dark urine, crying without tears, parched mouth and dry skin.
Coping with vomiting
The same things that cause diarrhea can also cause vomiting. If your child vomits once and then begins to feel better, food-borne illness could be the cause. Make sure he drinks plenty of water and other clear liquids, and eats bland food such as crackers and clear broth. If he can't keep anything down at all, try a cup of ice chips. If the vomiting increases, call your doctor.
Almost all kids experience abdominal pain and other tummy troubles at one time or another when they are growing up. Fortunately, it's typically not a sign of anything serious and can be easily treated at home.
Quick tip
Sometimes changing positions can help alleviate abdominal pain. Encourage your child to lie on his side and prop his feet up with a pillow to see if that helps until symptoms subside.
More about kids' health
When it's more than a tummy ache
Is your child eating an ADHD-friendly diet?
Study reveals new facts about childhood obesity
---
The opinions expressed in this article are of the author and the author alone. They do not reflect the opinions of SheKnows, LLC or any of its affiliates and they have not been reviewed by an expert in a related field or any member of the SheKnows editorial staff for accuracy, balance or objectivity. Content and other information presented on the Site are not a substitute for professional advice, counseling, diagnosis, or treatment. Never delay or disregard seeking professional medical or mental health advice from your physician or other qualified health provider because of something you have read on SheKnows. SheKnows does not endorse any specific product, service or treatment.
More From SheKnows Explorer