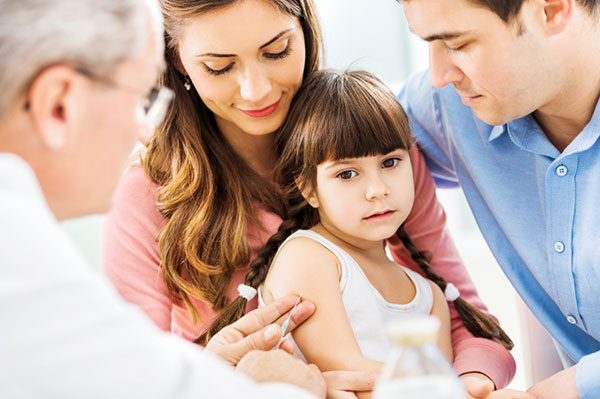 Ease your child's doctor anxiety
When it comes to visiting the pediatrician, some kids experience serious anxiety. After all, those shots can hurt! We asked experienced moms to share tips that can help make a trip to the doctor a little easier.
Talk it out
Prepare your kids for a trip to the doctor by letting them know what to expect. Jennifer Woods says she always tells her children exactly what's going to happen — even if their vaccine will hurt a little. According to pediatrician and mom Dyan Hes, M.D., medical director at Gramercy Pediatrics, it's important to put a positive spin on things so the physician and nurse don't seem like the "bad guys" with the needles. She suggests telling children, "You are going to get a shot today that is going to make you stronger," or "You need this blood test in order to go to school with the big kids!"
Play doctor
Dr. Hes suggests buying a play doctor's kit and role playing at home. "Kids love to play doctor. Some kids even bring their kit to my office and I allow them to check me!" Mikael TripkeHughes, mother of three (ages 12, 9 and 6), says when her kids were younger, they played doctor with stuffed animals before the visit so they could get practice dealing with their stress and asking their questions before going to the doctor. Kids might even like to bring a favorite stuffed animal or doll to the appointment. Dr. Hes says she gives some of her patients' dolls a check-up and a band aid too, just to relax them.
One child per appointment
For kids with doctor-related anxiety, you may want to consider making arrangements so you don't have to bring siblings along for the ride. TripkeHughes says it helps being able to provide her full attention.
Teach coping mechanisms
Give your child tools they can use to cope with doctor-related stress. For Heather Nassar, deep breathing and biofeedback helped her son feel more in control of the situation. "We were very frank when we talked about it and very factual," says Nassar. We told our son "You're going to get a vaccination to help keep you healthy. It will hurt, but if you do some deep breathing techniques like we practice, it will help relax your muscles."
Role reversal
Put your child in control by letting them practice being the doctor and giving you an exam. Mother of two Kerry Melcher says when her daughter was really little, she told her a shot was like a pinch — it hurt a lot at the beginning, but faded pretty quickly. Her daughter then asked if she could try an experiment and pinch her to see how long it would hurt. "She sure had fun pinching me, and I had fun screeching and then showing her how quickly it stopped hurting."
Model calm behavior
Kids are pros at picking up on your feelings, so make sure you model calm behavior (and do your own deep breathing exercises, if necessary). Tiffany Featherstone says "If I was nonchalant about the doc visit, they were too. If I stressed over it, they picked up on my feelings."
End with a treat
Let your kids know you will do something special after the doctor's visit. Mother of three Helen Smoole says "I always talk about how brave they are... and have a treat ready right after." Stickers, lollipops or special outings with Mom are fun ways to reward your child's bravery and give them something to look forward to.
Quick Tip:
Help ease your child's needle anxiety with a personal pain-relief product called Buzzy. Buzzy uses the natural pain relief of cool numbing and tingly vibration to confuse pain nerves. Learn more at buzzy4shots.com.
More kids' health tips
Understanding well-child checkups: The whens, whats and whys
Drink more water to stay healthy
How to find a good pediatrician
---
The opinions expressed in this article are of the author and the author alone. They do not reflect the opinions of SheKnows, LLC or any of its affiliates and they have not been reviewed by an expert in a related field or any member of the SheKnows editorial staff for accuracy, balance or objectivity. Content and other information presented on the Site are not a substitute for professional advice, counseling, diagnosis, or treatment. Never delay or disregard seeking professional medical or mental health advice from your physician or other qualified health provider because of something you have read on SheKnows. SheKnows does not endorse any specific product, service or treatment.