Drink Up!
Kids in the U.S aren't drinking enough water, says a study published in the October 2010 issue of the American Journal of Clinical Nutrition. Find out why your kids should be drinking more water and learn how to get them to drink more of the good stuff.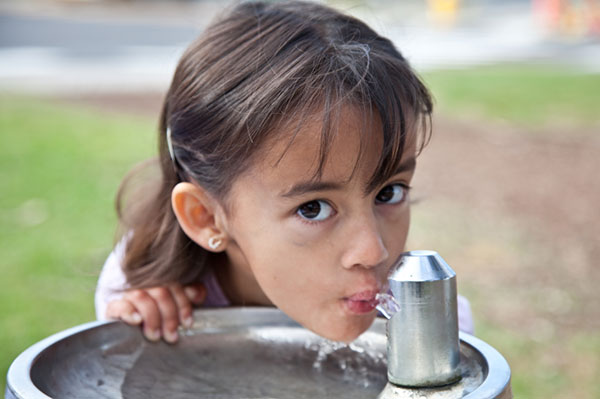 How much is enough?
According to the U.S. Department of Agriculture, there is no specific amount of water a child should drink daily. Children's water requirements vary based on their age, gender, level of physical activity, the temperature outside and their overall health. Keeping this in mind, the USDA offers a hydration guideline chart to give you a general idea how much water your child may need.
Benefits
The human body is mostly of water — in fact after the age of two, 60 percent of our body weight is water — so it's no surprise we need to stay hydrated to ensure optimal health. But what are the specific health benefits of drinking water? And what happens if kids don't get enough?
Overall good health — With over half their body weight comprised of water, it's essential for kids to supply their cells and organs with enough water to function properly. Giving your child an adequate amount of water will help maintain both physical and mental health and avoid fatigue.
Smarter kids — Can drinking a glass of water really make you smarter? Multiple recent studies show hydrated children perform better academically than those kids who were even mildly dehydrated. If you're not already doing so, give your kids a drink of water with breakfast to hydrate their gray matter before school.
Healthy teeth — According to the American Dental Association, water fluoridation has been responsible for reducing tooth decay by 20 to 40 percent. Not only does the fluoride in drinking water help kids' teeth, but it's also naturally sugar free, and thus a much better choice than sugary juices or soda.
Avoid constipation — If you, like so many other moms, have developed a close relationship with Miralax, you know constipated kids are no fun. Proper hydration can help keep kids' bowels moving like clockwork — naturally.
Tips to help boost your kids' water consumption
Offer small amounts throughout the day. This strategy will be more effective than trying to get children to drink a big glass of water at one sitting.
Make it accessible. Stash drinking cups within easy reach of your little ones. Designate a low cabinet shelf or drawer as the kids' cup station, and encourage them to help themselves to water from the refrigerator. If your fridge doesn't have a water dispenser on the outside, make sure an easy-pour pitcher or water bottles are stashed low enough for shorties to grab a drink when they're thirsty.
Make it fun. Let kids help pick out water bottles to take to school, and cups and straws to use at home. Buy a seltzer machine to make fizzy water to keep things interesting. Cut up lemons, limes and oranges for them to flavor their water naturally. We love this DIY infused water station one mom set up for her daughters.
Don't buy juice and soda. If you keep sugary juice and soda in the house, it may be difficult to wean the kids off the unhealthy beverages and steer them toward water. If you simply stop stocking juice and soda, the kids will learn to choose water automatically. If they're hooked on juice, start diluting it with water, gradually increasing the ratio of water to juice.
Quick Tip:
If you have preschool age kids, check out the book Drinking Water by Mari C. Schuh. It helps explain why your body needs water and ways to enjoy it.
More kids' health tips
Understanding well-child checkups: The whens, whats and whys
Real moms share: How we beat the Dr. blues
How to find a good pediatrician
---
The opinions expressed in this article are of the author and the author alone. They do not reflect the opinions of SheKnows, LLC or any of its affiliates and they have not been reviewed by an expert in a related field or any member of the SheKnows editorial staff for accuracy, balance or objectivity. Content and other information presented on the Site are not a substitute for professional advice, counseling, diagnosis, or treatment. Never delay or disregard seeking professional medical or mental health advice from your physician or other qualified health provider because of something you have read on SheKnows. SheKnows does not endorse any specific product, service or treatment.