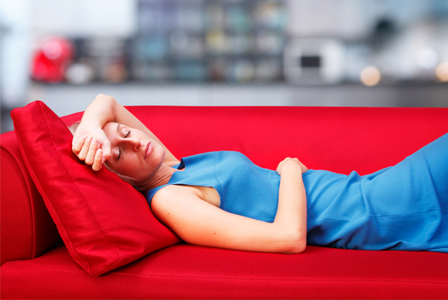 Are you constantly tired or hungry? Does your mood sink like the Titanic before you get your period? Are you struggling to get pregnant? You could have a magnesium deficiency.
A missing mineral...
Magnesium does not get the respect — or attention — it deserves. Two out of three Americans fail to consume the recommended daily allowance (RDA) for magnesium — 320 mg for women and 420 mg for men. Overlooked and underappreciated, magnesium is responsible for more than 700 enzyme-activated biochemical reactions in the body and it helps create energy. As our body's fourth most abundant mineral, magnesium plays a vital role in regulating blood pressure, heart rate and blood sugar levels, maintaining nerve function and keeping muscles relaxed. Magnesium is also a critical "calming" mineral, potent in its ability to alleviate stress.
Who benefits from a magnesium-rich diet?
While a magnesium-rich diet benefits everyone, it is especially helpful for women dealing with PMS, dysmenorrhea (painful periods), infertility, pregnancy and weight management issues. We talked to Dr. Carolyn Dean, author of The Magnesium Miracle, who shares her expert insights with us. "Fluctuating sex hormones affect magnesium levels, making women more sensitive to magnesium deficiency than men," she says.
How magnesium affects...
PMS: Ever wonder why you crave chocolate before your period? It's because your body is clamoring for magnesium, and, ounce for ounce, dark chocolate (80-plus percent cocoa) has more magnesium than any other food. Magnesium levels fluctuate during a woman's cycle. The higher the estrogen or progesterone, the lower the magnesium. During the second half of the menstrual cycle, when both estrogen and progesterone are elevated, magnesium plummets. This can result in spasms in the brain arteries — a prelude to PMS and migraines. Increasing dietary and supplemental magnesium can help relieve PMS-related symptoms, such as headaches, bloating, low blood sugar, dizziness, fluid retention and sugar cravings.
Dysmenorrhea (painful periods): If you're doubled over in agony when you get your period, consider taking magnesium before it arrives. Dean states that women who suffer from painful periods can get relief by taking high doses of magnesium, starting with 300 mg of powdered magnesium citrate, and slowly working up to 900 or 1,200 mg (if needed).

Infertility: Low magnesium may be a culprit if you're having difficulty getting pregnant. "Magnesium deficiency can cause spasms in a woman's fallopian tubes, preventing egg implantation," says Dean.
Pregnancy: If you're pregnant, you need more magnesium — at least 360 mg to meet the RDA for pregnant women. Taking magnesium regularly throughout pregnancy can help prevent complications and reduce your risk of preeclampsia, premature births and sudden infant death syndrome (SIDS), says Dean.
Weight: Magnesium activates enzymes that control digestion, absorption and the use of proteins, fats and carbs. Magnesium also enables insulin to escort glucose into cells, where it is converted into energy for the body. Without enough magnesium, both insulin and glucose levels become elevated; and when your body is unable to use the insulin properly, excess glucose is stored as fat — most visibly around your middle. Chronic magnesium deficiency can lead to hypoglycemia, anxiety, obesity and diabetes.
How much magnesium do you need?
Ask your doctor for a magnesium RBC (red blood cell) test, which measures intracellular levels of magnesium. "The optimal level is 6.5 — within a range of 4.2 to 6.8. Below 6.0, you are magnesium deficient," says Dean.
Six easy ways to get more magnesium
Eat magnesium-rich foods: leafy greens, nuts, seeds, herbs (nettles and burdock root) and whole grains. Other dietary sources — by milligrams per 3-1/2 ounces — include: kelp (760); wheat bran (490); wheat germ (336); almonds (270); cashews (267); buckwheat (229) and dulse (220).
Enjoy dark chocolate (80-plus percent cocoa) in moderation. The less sugar, the more magnesium!
Snack on pumpkin seeds and sunflower seeds (or their butters).
Reduce "magnesium-suckers": smoking, processed foods, high alcohol consumption, exposure to environmental toxins and stress.
Indulge in regular Epsom salt soaks: Dissolve 1 cup of Epsom salts in two quarts of warm water for a foot soak; 2 cups of Epsom salts in a bath. Soak 20 to 30 minutes.
Take supplemental magnesium citrate powder, like Natural Calm (available at most health food stores). Dean recommends mixing 2 rounded teaspoons of magnesium citrate in 16 ounces of water and sipping slowly throughout the day. Drink the mixture (same proportions) again in the evening.
More on women's nutrition
5 Nutrients you may be missing
Home remedies for common health ailments
Menopausal in the summertime: How to fight hot flashes
---
The opinions expressed in this article are of the author and the author alone. They do not reflect the opinions of SheKnows, LLC or any of its affiliates and they have not been reviewed by an expert in a related field or any member of the SheKnows editorial staff for accuracy, balance or objectivity. Content and other information presented on the Site are not a substitute for professional advice, counseling, diagnosis, or treatment. Never delay or disregard seeking professional medical or mental health advice from your physician or other qualified health provider because of something you have read on SheKnows. SheKnows does not endorse any specific product, service or treatment.