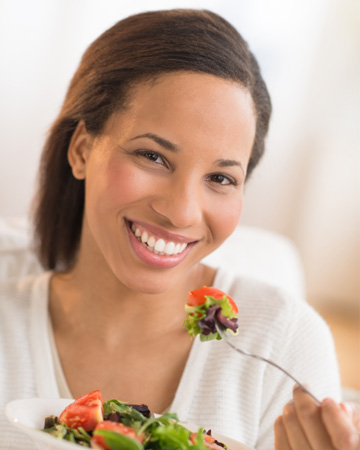 Tips to picking healthy dressing
A crisp, refreshing salad sounds like a healthy choice for those watching their weight, eating to nourish their body and those who have a true love affair with the greens we need. However, a simple salad can quickly go wrong if prepared with sneaky health impostor ingredients.
Salad dressing is the most common sabotaging salad ingredient. Whether you are dining at a salad bar or shopping at the grocery market, apply these salad dressing secrets to avoid health inhibiting ingredients so you can truly nourish your body.
Pick the right consistency
When at a restaurant or cafe choose, "clear and runny" dressings over "gloopy-gloppy" dressings. For example, an oil-based dressing, which is clear in consistency, is traditionally a healthier choice than a "gloopy-gloppy" dressing, which is traditionally thick, difficult to spread and dairy based, such as blue-cheese, ranch or thousand-island dressings. Also, don't be afraid to ask your server about the ingredients used in your dressing!
Light isn't always right
When grocery shopping, "light" or "lite" options do not always guarantee a healthier choice. Lighter varieties commonly contain artificial sweeteners such as aspartame or sucralose, and additional harmful ingredients to your health. Always read the ingredient list of any bottled or packaged item you are considering consuming, and avoid chemically created or altered ingredients such as aspartame and sucralose.
Approved salad dressing ingredients
Some basic ingredients that make the cut include lemon, lime, sea salt, pepper, spices, garlic, organic virgin olive oil and organic raw unrefined coconut oil.
Homemade salad dressings are also great and can simply be made by blending together a few fresh ingredients. Try my Creamy Avocado and Zesty Lime Salad Dressing!
Say no to canola oil
Olive oil comes from olives, peanut oil comes from peanuts and canola oil comes from, rapeseeds? Did you know that there is no such thing as the "canola nut"? Rapeseed oil was originally produced in the 19th century as a source of lubricant for steam engines. It is also important to note that most canola, 93 percent in the U.S. to be exact, is genetically modified. Avoid salad dressings containing canola oil. Instead choose salad dressing made with organic virgin olive oil or organic raw unrefined coconut oil.
... and corn syrup
High Fructose Corn Syrup (HFCS) is a common ingredient found in commercial salad dressing. It is added to sweeten up your dressing, while reducing the overall cost. However this additive does have a cost—your health! HFCS is difficult for your body to metabolize and has been linked to many health problems such as obesity and diabetes. Avoid any salad dressing that contains this health-inhibiting ingredient.
Creamy Avocado and Zesty Lime Salad Dressing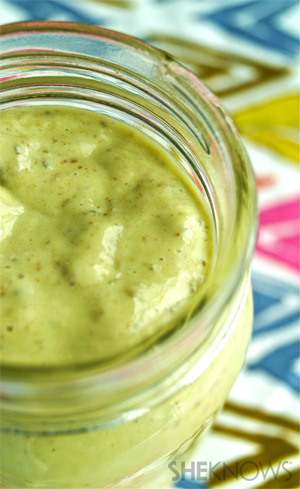 Yields 1 cup or 16 tablespoons
Ingredients:
1 large ripe avocado
1/2 lime, juiced
1 pinch of kosher sea salt
1/4 cup filtered water
1 medjool date
Directions:
Cut avocado in half and spoon out the insides, tossing the avocado pit.
Add avocado, lime juice, sea salt, water and medjool date into a small food processor or blender, and blend until smooth and creamy.
Toss your favorite salad with this creamy dressing or use as a dip for fresh cut veggies and enjoy as a snack!
More salad recipes
Summer nectarine salad with fresh basil dressing
Healthy salad dressing recipes
Strawberry basil quinoa salad with champagne vinaigrette
---
The opinions expressed in this article are of the author and the author alone. They do not reflect the opinions of SheKnows, LLC or any of its affiliates and they have not been reviewed by an expert in a related field or any member of the SheKnows editorial staff for accuracy, balance or objectivity. Content and other information presented on the Site are not a substitute for professional advice, counseling, diagnosis, or treatment. Never delay or disregard seeking professional medical or mental health advice from your physician or other qualified health provider because of something you have read on SheKnows. SheKnows does not endorse any specific product, service or treatment.