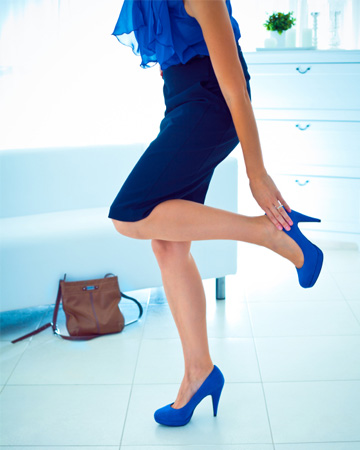 Why you need to stretch your feet
Let's face it, your body just wasn't built for walking around on its tippy-toes all day, every day.
If you're not careful, wearing high heels can create a world of foot problems. So what could possibly go wrong in shoes that look so good?
For one, inflammation around your metatarsals (the bones that bridge the gap from your arches to the balls of your feet). You also become vulnerable to plantar fasciitis, painful inflammation of the connective tissue along the bottoms of your feet.
But wearing high heels too often, for too long, affects more than your feet. The shift in position from flat feet to tiptoes forces your knees and hips forward. That, in turn, forces your lower back into a deeper arch than it's used to. The result is a cascade of imbalances that runs all the way down to your toes.
The good news is that you don't have to give up your high heels entirely. Australian podiatrist Phillip Vasyli, also the mind behind a line of shock-absorbing shoe inserts that will fit into high heels for extra support, says that rationing your heel-wearing moments wisely can help preserve your feet: "The human body was not intended to walk in high heels, so the most logical thing is to either not wear them or, better, to save them for special occasions or the weekend."
When you do go for the heels, Vasyli recommends sticking to 1.5 to 2 inches of height, preferably with wedge soles that contact and support the arch of your foot. You can go as high as 3 inches but, Vasyli warns, walking in heels higher than 3 inches will affect your gait.
Vasyli also recommends taking these proactive measures to protect your feet:
Stretch your calves before and after wearing high heels.
Stretch your plantar fascia: Bend your legs so you can reach your feet and gently pull your toes toward your shins. Hold the stretch for 30 seconds and repeat five times on each side. Aim for three stretching sessions per day.
Place a tennis ball on the floor and rest the sole of one foot on it. Stretch your plantar fascia by rolling the ball back and forth along your foot and in circles (in both directions), applying slowly increasing downward pressure.
If you do yoga, any pose that incorporates calf stretches or pelvic tilts is beneficial.
Supportive inserts suggestions
More on healthy living
Barbie's new, more realistic body type
Women share: How I lost 100 pounds
Home remedies for common health ailments
---
The opinions expressed in this article are of the author and the author alone. They do not reflect the opinions of SheKnows, LLC or any of its affiliates and they have not been reviewed by an expert in a related field or any member of the SheKnows editorial staff for accuracy, balance or objectivity. Content and other information presented on the Site are not a substitute for professional advice, counseling, diagnosis, or treatment. Never delay or disregard seeking professional medical or mental health advice from your physician or other qualified health provider because of something you have read on SheKnows. SheKnows does not endorse any specific product, service or treatment.