(page 2 of 2)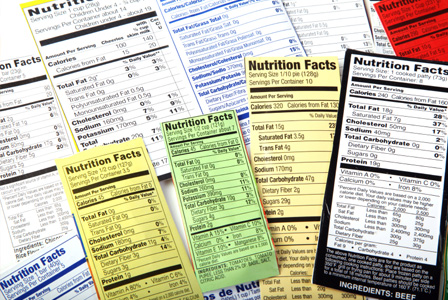 Are you spending your money wisely on groceries? Do you get confused or swayed by product packaging and labels? Do your homework before your next trip to the grocery store and don't fall prey to marketing gimmicks.
Label breakdown
Common food label confusion
Do you consume "extra-light" olive oil thinking that "light" means lower in fat and calories? Did you know that it's only "light" in color or taste?
Also, the FDA has relatively loose rules for food marketing, so when you see "doctor-approved" that means nothing. There is no set standard on how a doctor can "approve" a product, and if, in fact, a doctor did give their feedback, that's clearly all it is—feedback. Besides, you have no idea who this doctor is or what his or her qualifications are.
Fat-free lies
Packages can say the product is fat-free, but it could be loaded with sugar, which turns into fat. Conversely, sugar-free products are usually loaded with fat.
The FDA allows the fat-free label to be placed on packaging as long as the product contains less than .5 grams of fat per serving. Look beyond the nutrition facts on the label to the list of ingredients. Here lies the truth. Look for any of the following words; these are fats.
Partially hydrogenated vegetable oil
Shortening
Milk solids
Cream
Palm oil
Coconut oil
Palm kernel oil or any kind of oil
'Natural' is not regulated
The word "natural" is not regulated by the FDA and can be very misleading. Consumers buy "natural" products because they believe they are fresh, minimally processed and healthy, yet it says nothing about a food's nutritional content, ingredients or health effects.
Some products contain citric acid as an additive but will still make "natural" claims. Some products containing high-fructose corn syrup (made through complex chemical industrial processes) even get away with the "all natural" label although there is nothing natural about high-fructose corn syrup.
Whole grain — a lot or a little?
Many products advertise "made with whole grains" on packaging. Unfortunately, most of these foods actually have ordinary refined wheat flour as their main ingredient, as they are not required to disclose the percentage of whole grains versus refined grains.
One safeguard is to examine the listed ingredients. Ingredients must be listed in order of predominance, so if something like "enriched wheat flour" is first, but "whole wheat flour" is further down the list, you can be sure there isn't a lot of whole grain in the product.
Do you have food allergies?
As of 2006, food manufacturers have been required to disclose whether products contain any of the top eight food allergens. Ninety percent of the allergic reactions associated with foods are caused by one of eight foods: milk, eggs, fish, shellfish, peanuts, tree nuts, soy and wheat.
Manufacturers have a couple of options in order to declare the presence of these food substances in foods. Option one is to provide a "contains" statement next to the ingredient list that identifies the types of allergen ingredients contained in the product, for example, "contains milk, soy and wheat." The second option is to place the food source in parentheses next to ingredients derived from one of the eight potential offending foods, such as "sodium caseinate (milk)," or "albumen (egg)."
The bottom line
By law, food labels must be accurate, yet companies can pick and choose which product traits to highlight and which to spin. As a consumer, your best option is to disregard the claims on the front of the package. While they may be true, they may not tell you the whole truth!
If you are truly interested in proper nutrition, take some time to educate yourself. Ask yourself what exactly you want from the food you put into your body. What do you need to avoid? Once you figure that out, you may realize that buying more fresh whole foods is a lot easier.
If not, take the time to go to a products website if you are going to invest your money and health in a particular item; do your research. While this may seem time-consuming, it's worth the investment. After all, it's your health.
More health and nutrition tips
Drink your way to a better brain
4 Food additives to avoid
Nutrition and wellness tips with Keri Glassman
---
The opinions expressed in this article are of the author and the author alone. They do not reflect the opinions of SheKnows, LLC or any of its affiliates and they have not been reviewed by an expert in a related field or any member of the SheKnows editorial staff for accuracy, balance or objectivity. Content and other information presented on the Site are not a substitute for professional advice, counseling, diagnosis, or treatment. Never delay or disregard seeking professional medical or mental health advice from your physician or other qualified health provider because of something you have read on SheKnows. SheKnows does not endorse any specific product, service or treatment.