Go Green & Get Healthy!
TeleBrands, the country's leading "As Seen on TV" marketer, revolutionizes the cooking category with OrGreenic Kitchenware!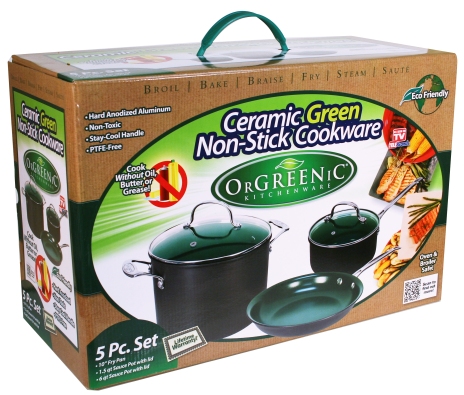 OrGreenic by Telebrands is an innovative non-toxic cookware set that eliminates the need for oils, butter or grease, making healthy eating easy! OrGreenic Kitchenware is also free of Perfluoro Octanoic Acid (PFOA), a chemical often used in non-stick pans and recently identified by the Environmental Protection Agency (EPA) as a potential carcinogen. With OrGreenic Kitchenware you can boil, bake, braise, steam, sauté, or fry without adding any grease or fat!
One lucky winner will receive a 5-piece set of OrGreenic by Telebrands which includes a selection of pots and pans featuring a ground-breaking non-stick, natural ceramic coating. The 5 piece set includes a 10 inch fry pan, a 1-1/2 quart pot, and a 6 quart pot, all with tempered glass lids.
For more information visit www.OrGreenic.com
Enter now for your chance to win the OrGreenic by TeleBrands Cookware Giveaway!
Entries are unlimited. 
Check out more SheKnows Giveaways!