Snack Healthy This Holiday Season!
Great-tasting brands, Tribe Hummus, Mamma Chia, Popcorn, Indiana, and Veggie Patch want you to celebrate the holidays in a healthy yet delicious way!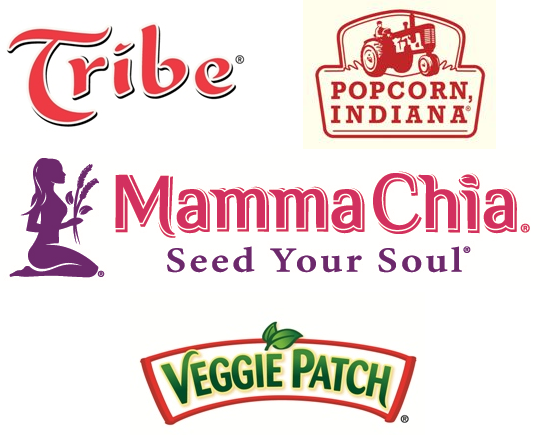 For healthy eaters, the holidays can be anything but joyful. The greasy dips, high in sugar cocktails and fatty spreads will leave anyone feeling less than merry.  Enter to win a few healthy and tasty alternatives so your holiday guests can get into the holiday spirit and not torture their waistline.
5 lucky winners will receive one month's supply of coupons for each of the below products:
Tribe Hummus - Traditional dips such as spinach and artichoke and seven layer may taste good, but aren't diet-friendly. Tribe Hummus offers a variety of great flavors, such as Mediterranean Style and Sweet Roasted Red Pepper that come in at around 70 calories per serving and are deliciously filling.
Mamma Chia  - Fun for your mouth and great for your body, Mamma Chia vitality beverages use nutrient-rich chia seeds infused with organic fruit juice for a better-for-you drink alternative. For an extra spike, add in your favorite liquor for an omega 3 and protein-packed healthy holiday cocktail!
Popcorn, Indiana – Make snacking fun this holiday season with a variety of options from Popcorn, Indiana, makers of the best tasting snacks on the planet, which are all-natural, gluten-free, made from non-GMO corn, certified kosher and contain whole grains.
Veggie Patch– Spice up your hors d'oeuvres and satisfy even the pickiest eaters, as well as vegetarians, with fun, unique recipes from Veggie Patch, maker of delicious meatless and vegetarian options. Try serving guests Meatless Meatballs or Falafel Balls on festive toothpicks – they won't disappoint!
Enter now for your chance to win the Healthy Holiday Eats Giveaway!
Entries are unlimited. 
Check out more SheKnows Giveaways!