Win a Butter Bell Crock, the perfect holiday gift!
Guaranteed to keep your butter fresh and spreadable for weeks without refrigeration!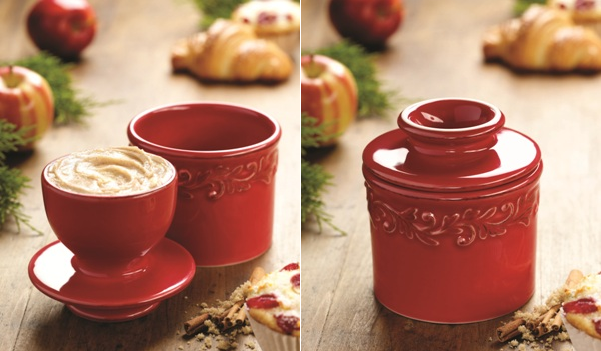 Tired of cold hard butter that's impossible to spread? The Original Butter Bell® Crock is a modern version of the authentic French "beurrier". Made from high fired, durable New Bone China, the Butter Bell crock safely keeps butter at room temperature—on the counter or tabletop—without spoilage, refrigeration or odors. It's a beautiful and practical way to serve and store butter for easy spreading and long lasting freshness! Each crock holds one stick (half a cup) of butter and is dishwasher safe. Our giveaway features six of our most popular design, the Antique Rouge Butter Bell crocks. This French country kitchen inspired Butter Bell crock features a decorative hand-distressed pattern around the crock creating a rustic well-worn look. This Antique pattern comes in several vintage colors, which can be seen on our website.
Endorsed by top chefs and butter manufacturers 
Made of durable New Bone China
Holds one stick (1/2 cup or 115 grams) of butter
Dishwasher safe
Size: 4.25" x 3.78"
Six lucky winners will receive their very own Butter Bell Crock this holiday season!
Enter now for your chance to win the Butter Bell Crock Giveaway!
Entries are unlimited. 
Check out more SheKnows Giveaways!