No bun needed
Whether you're gluten-free, low-carb or just want to skip the bun, these beef lemongrass sliders are perfect on their own.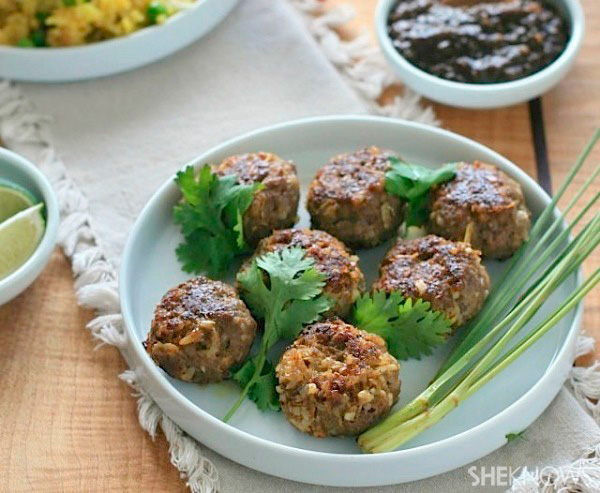 Bold ingredients like lemongrass, turmeric and cayenne pepper infuse these sliders with tons of flavor. Top these beef patties with homemade chili sauce for even more kick.
Beef lemongrass sliders recipe
Adapted from Burma: Rivers of Flavor
Yields about 16 sliders
Ingredients:
1 pound ground beef
1/4 teaspoon turmeric
1/2 teaspoon cayenne pepper
1/2 cup thinly sliced shallots
2 tablespoons minced lemongrass (woody ends and tough outer leaves removed)
4 cloves garlic, roughly chopped
2 tablespoons minced fresh ginger
1/4 cup cooked rice
1 teaspoon salt
Oil for frying
Directions:
Place the ground beef in a large bowl and sprinkle with turmeric and cayenne pepper.
In a food processor, combine the shallots, lemongrass, garlic and ginger. Process until it becomes a paste. Add the rice and salt. Pulse several times. Add mixture to the ground beef and thoroughly mix to incorporate the spices and lemongrass paste.
Use your hands to shape the mixture into balls about the size of golf balls and then flatten each slightly to form a thick patty.
In a large skillet, heat oil over medium-high heat. Add the beef patties and cook for approximately 2-3 minutes on each side. (Cook until the sliders have developed a golden crust or until they've reached your desired level of doneness.)
Serve with homemade chili sauce.
More Daily Flavor
Lemongrass shrimp skewers
Vietnamese pork meatballs in lettuce cups
Burmese shrimp and cucumber salad