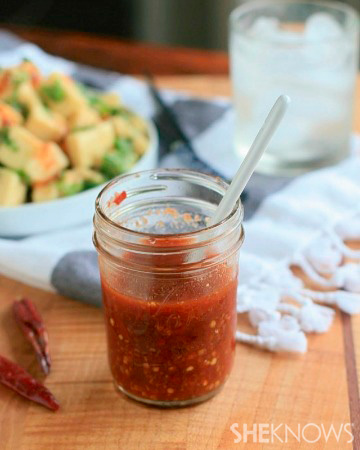 Move over, Sriracha!
If you're addicted to that popular hot chili sauce with a rooster on the bottle, you'll love this sweet and spicy homemade version.
Spoon this homemade chili sauce over fish, chicken, scrambled eggs and more. We think it tastes great on just about anything!
Homemade chili sauce recipe
Adapted from Burma: Rivers of Flavor
Yields about 2 cups
Ingredients:
1 cup packed dried red chili peppers
3/4 cup water
1/4 cup coarsely chopped garlic
1/4 cup fish sauce
1/4 cup sugar
3/4 cup rice vinegar
Directions:
Cut the stems off the chili peppers. Slice the peppers in half lengthwise. Remove and discard most of the seeds. (Keeping more seeds will result in a spicier sauce.)
Combine the chili peppers, water and garlic in a small saucepan and let sit for 5 minutes. Set over medium-high heat and bring the mixture to a boil. Reduce heat and let the mixture simmer for 5 minutes.
Let the mixture cool slightly and then transfer to a blender or food processor. Add the fish sauce and sugar to the chili mixture. Process, stopping to scrape down the sides if necessary, until the chili peppers have been broken down into very small pieces. Add the vinegar and pulse to combine. Transfer to a glass jar and refrigerate.
NOTE
The sauce will initially seem a bit watery but will thicken slightly in the refrigerator.
More Daily Flavor
Vietnamese pork meatballs in lettuce cups
Burmese shrimp and cucumber salad
Vietnamese caramelized spicy chicken