Just wing it!
Need a tasty game day bite? Cola and jalapeño-glazed chicken wings are the perfect messy snack to pair with a tall cold beer.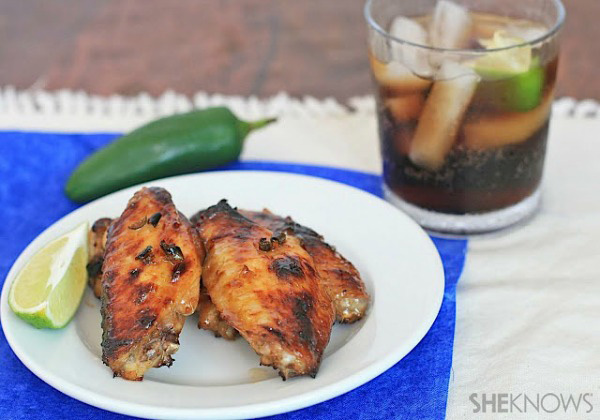 Sugar and spice give these chicken wings tons of flavor. Make sure you serve these with an big stack of napkins!
Spicy cola and jalapeño-glazed chicken wing recipe
Adapted from Bon Appetit Y'All: Recipes and Stories from Three Generations of Southern Cooking
Yields about 12 wings
Ingredients:
1 cup cola
Juice of 2 limes
1-1/2 cups packed light brown sugar
4 jalapeños, minced
2 pounds chicken wings (about 12), patted dry with paper towel
Salt and pepper
Directions:
In a saucepan, combine the cola, lime juice, brown sugar and jalapeños. Bring to a boil over high heat. Reduce heat to medium-low and simmer until the sauce is thick and syrupy, about 30 minutes.
While the sauce is simmering, preheat the broiler with a rack approximately 4 inches below the heating element. Line a baking sheet with aluminum foil and place an ovenproof wire rack on top of the foil.
Place the chicken wings in a large bowl and season with salt and pepper. Pour about half of the glaze over the wings and toss to coat.
Place the glazed wings on the wire rack and broil for approximately 10 minutes on each side, brushing each side twice with the reserved glaze during cooking.
Transfer to a platter and serve immediately.
More Daily Flavor
Vietnamese caramelized spicy chicken
Buffalo chicken meatball sandwiches
Sweet and spicy Asian chicken