Healthy side dish
Throw this Greek garbanzo bean salad together for a light, healthy side dish to complement grilled fish or chicken.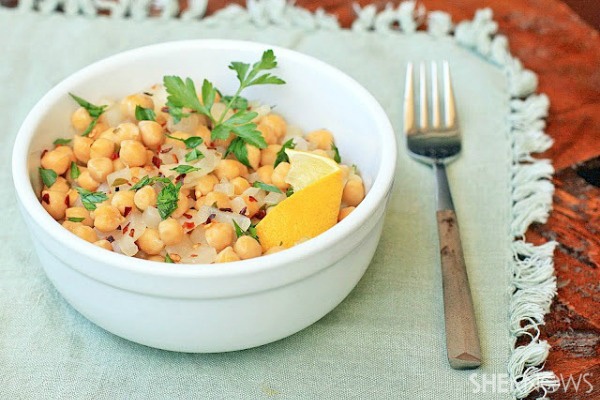 Quick, easy and healthy! What more could you ask for in a side dish? Garbanzo beans make the perfect base for this Greek-flavored salad.
Greek garbanzo bean salad recipe
Adapted from Greek Revival: Cooking for Life
Serves 6
Ingredients:
2 (15-ounce) cans garbanzo beans
3 tablespoons olive oil
1 large yellow onion, chopped
1 tablespoon roughly chopped fresh oregano
1/2 teaspoon crushed red pepper flakes, plus extra for garnish
1/4 cup white wine
1-1/2 tablespoons lemon juice
1/3 cup coarsely chopped parsley
Directions:
Drain the garbanzo beans, reserving the liquid, and set aside.
In a large skillet, heat the olive oil over medium-high heat and cook the onion until soft. Add the oregano, crushed red pepper flakes, white wine and 1/2 cup of the reserved liquid. Stir to combine. Add the garbanzo beans.
Lower the heat to medium-low and let mixture simmer until almost all of the liquid has evaporated.
Transfer to a serving bowl. Pour the lemon juice over the top and sprinkled with parsley and crushed red pepper flakes, if desired.
More Daily Flavor
Burmese shrimp and cucumber salad
Cilantro lime jicama salad
Barley salad with chickpeas, fava beans and peas