Nutella pudding recipe
Serves 8 
Ingredients:
1-1/2 cups whole toasted hazelnuts
2 cups whole milk
1 cup whipping cream
2 teaspoons vanilla bean paste
6 large egg yolks
3 tablespoons cornstarch, sifted
1/2 cup sugar
1 large pinch kosher salt
4 ounces semisweet chocolate, coarsely chopped
3 tablespoons butter
Directions:
Chop the toasted hazelnuts to a coarse crumb in a food processor.
To make the hazelnut cream: Pour the milk and whipping cream into a heavy-bottomed saucepan. Add the vanilla bean paste to the milk and cream mixture. Stir in the hazelnut crumbs and heat to scalding over medium-low heat. Remove from the heat and set aside to infuse for about 20 minutes.
Whisk the egg yolks, cornstarch, sugar and salt together in a large bowl until thick and pale yellow in color.
In a small saucepan, melt the chocolate and butter over low heat, stirring until smooth. Set aside to cool.
Slowly temper the milk mixture into the egg yolk mixture, whisking constantly. Return to the saucepan over medium heat and cook, whisking constantly, until the custard is thick and starts to bubble, about 3 minutes.
Strain the custard into a bowl. Stir in the melted chocolate-butter mixture.
Scrape the entire pudding into a blender and process for 30 seconds or until very smooth.
Spoon the pudding into dessert dishes and cover with plastic wrap, chill overnight.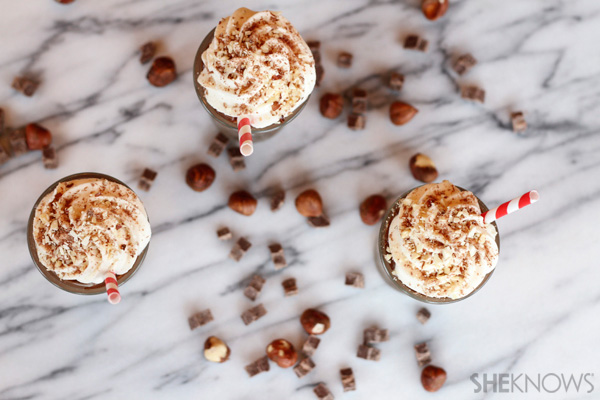 More pudding recipes
Coconut rice pudding with mango puree and rum caramel sauce
Layered rainbow pudding
Mexican rice pudding