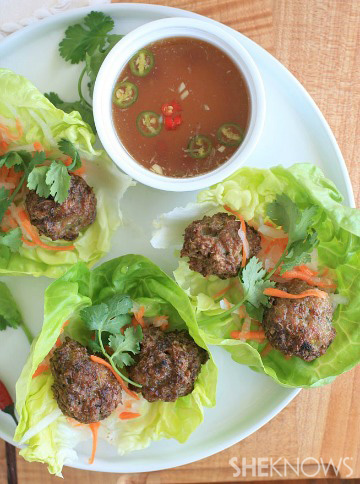 No marinara sauce here!
Meatballs aren't just for spaghetti! These Vietnamese pork meatballs wrapped in lettuce cups will be your new favorite meatball recipe.
Fresh ingredients like garlic, cilantro and green onions give these pork meatballs tons of flavor. For a fun family-style appetizer, serve a big platter of meatballs with all the fixings and let guests assemble their own lettuce cups.
Vietnamese pork meatballs in lettuce cups recipe
Yields 10-12
Ingredients:
5 cloves garlic, peeled
2 stalks lemongrass, woody ends trimmed and outer leaves removed, thinly sliced
1-1/2 tablespoons fish sauce
1-1/2 tablespoons sugar
1 pound ground pork
1/4 cup roughly chopped green onion
1/4 cup roughly chopped cilantro
1 teaspoon baking powder
10-12 small, cup-shaped lettuce leaves
Shredded carrots
Sprigs of fresh cilantro, mint, Thai basil and chopped green onion
Directions:
Preheat oven to 375 degrees F and line a baking sheet with parchment paper.
In a food processor, combine the garlic, lemongrass, fish sauce and sugar. Process until the garlic and lemongrass are very finely minced. Add the pork, green onion and cilantro and pulse until the mixture is combined. Green onions and cilantro should be finely chopped and incorporated into the mixture.
Transfer the pork mixture to a large bowl and add the baking powder. Mix thoroughly.
Use your hands to roll the pork mixture into 20-24 meatballs. Bake meatballs for approximately 20 minutes, flipping halfway through baking time, or until the meatballs are lightly browned and cooked through.
Place two meatballs in each lettuce cup, then spoon dipping sauce over. Add shredded carrots, sprigs of fresh herbs and/or green onions, as desired.
More Daily Flavor
Creamy coconut crab curry
Vietnamese caramelized spicy chicken
Burmese shrimp and cucumber salad