Savory & sweet
Tired of the same boring chicken recipe? Go global with a Vietnamese dish: ga kho. This caramelized spicy chicken is full of bold flavors and a little heat.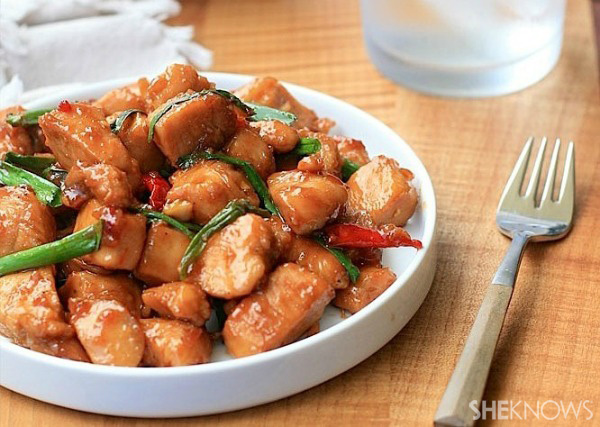 This dish might taste like it took hours simmering on the stove but it comes together in minutes, making it perfect for a weeknight dinner. Serve it over rice to soak up some of that sticky, sweet sauce.
Vietnamese caramelized spicy chicken (ga kho) recipe
Adapted from Quick and Easy Vietnamese
Serves 4-6
Ingredients:
1-1/2 pounds boneless skinless chicken (preferably thighs)
2 tablespoons vegetable oil
4 cloves garlic, minced
1-inch piece fresh ginger, peeled and grated
2-3 small shallots, minced
1-3 Thai chilies (or jalapeños), sliced
3 tablespoons fish sauce
2 tablespoons brown sugar
1 tablespoon sugar
1/2 teaspoon black pepper
1/4 cup water
6-8 green onions, sliced on the diagonal into 2-inch lengths
Directions:
Cut the chicken into large chunks and set aside.
In a large pan, heat the vegetable oil over medium-high heat. Add the chicken and cook, stirring occasionally, until most of the pieces of chicken are no longer pink. Push the chicken to the perimeter of the saucepan and add the garlic, ginger, shallots and Thai chilies. Cook for several minutes, until softened, stirring the garlic mixture occasionally.
Combine the fish sauce, sugars and black pepper in a small bowl and stir to mix.
When garlic mixture is softened, stir into the chicken, then pour in the fish sauce mixture. Stir to coat. Bring the mixture to a boil for a minute, then add the water. Adjust heat to a low simmer and then let the chicken cook, stirring occasionally, until the sauce is thick and the chicken is cooked through. Add the green onions.
Remove from heat and serve with rice.
More Daily Flavor
Spicy Thai peanut noodles
Creamy coconut crab curry
Lemongrass shrimp skewers