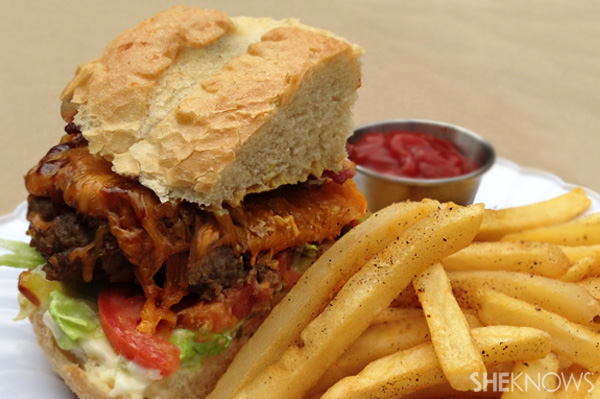 Keep your cookout easygoing
Planning a backyard barbecue? We've got the perfect menu to let you have the ultimate cookout without the stress.
Repeat after me: "Backyard cooking doesn't have to be stressful." No matter how many guests you have, we have a scalable menu that makes it easy to serve up good food while having a good time yourself.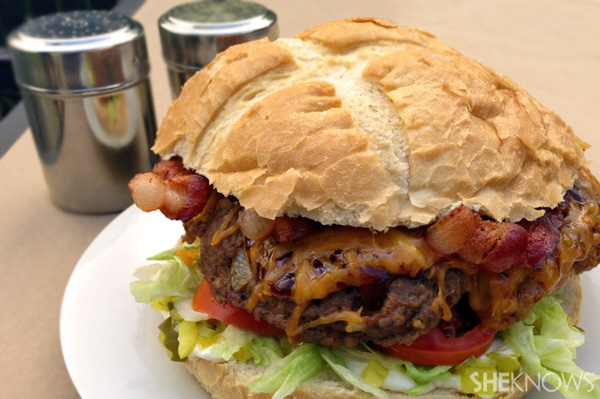 Giant barbecue bacon burger
Serves 4 to 8
Ingredients:
1/2 cup onion, finely diced
2 tablespoons unsalted butter
1-1/2 pounds lean ground beef or turkey
1/3 cup quick-cooking oats
1 egg, lightly beaten
1/2 cup thick hickory-smoked barbecue sauce, divided
3/4 teaspoon salt
5 to 10 grinds of freshly ground black pepper
6 to 8 slices applewood-smoked bacon, cooked and chopped
4 ounces cheddar cheese, shredded
1 large (approximately 9-inch) round roll, sliced to create a bun and toasted
4 leaves iceberg lettuce, shredded
2 Roma tomatoes, sliced
1/4 cup dill pickles, diced
Directions:
Gas up the grill.
In a small sauté pan, soften the onions in butter.
In a large mixing bowl, use your hands to mix sautéed onions, ground meat, oats, egg, half the barbecue sauce, salt and pepper until just combined. Turn the meat mixture out onto a piece of aluminum foil and shape it into a large patty (about 9 inches).
Wrap the burger up in the foil and place it on the grill and cook covered for about 8 minutes on each side (use two spatulas to flip).
Before removing it from the grill, open the foil and sprinkle the cheese and bacon on top and cover for an additional 2 minutes to melt the cheese.
Place the cooked burger onto the bun and add extra barbecue sauce, lettuce, tomatoes and pickle.
Slice into wedges to serve.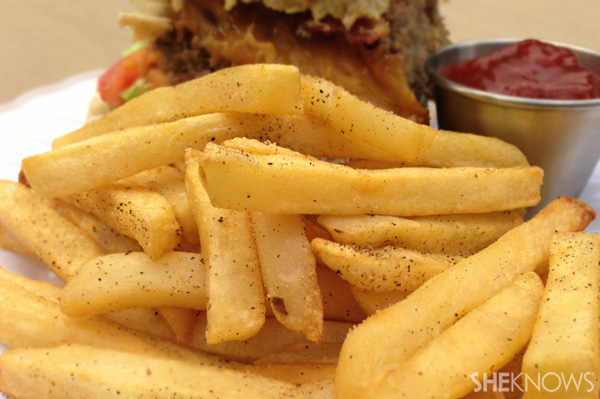 Seasoned french fries
Serves 4 to 8
Ingredients:
1 bag frozen plain wedge-cut french fries
1 tablespoon onion salt
1 tablespoon garlic salt
1-1/2 teaspoons pepper
1-1/2 teaspoons oregano
1-1/2 teaspoons paprika
Directions:
Cook fries according to package directions.
Meanwhile, mix spices.
Season the fries with the mixed spices while they're still hot.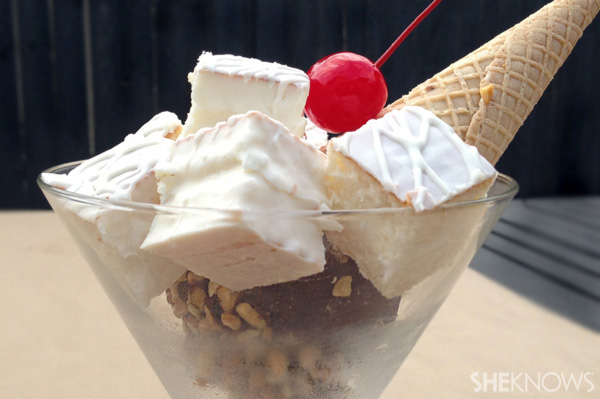 Ultimate ice cream and cake
Serves 4 to 8
Ingredients:
4 to 8 Nestle Drumsticks (any variety)
1 small sheet or angel food cake (frosting optional), cubed
4 to 8 maraschino cherries
Directions:
Unwrap the Nestle Drumstick and place it upside down in a bowl or glass, resting the cone against the edge.
Arrange cubes of cake around the ice cream to fill the glass or bowl.
Top with a maraschino cherry.
More barbecue recipes
Asian barbecue recipes
Beer-braised chicken sliders
DIY watermelon cocktail keg