Fresh flavors
This light, fresh shrimp and cucumber salad is bursting with flavors inspired by Burmese cuisine.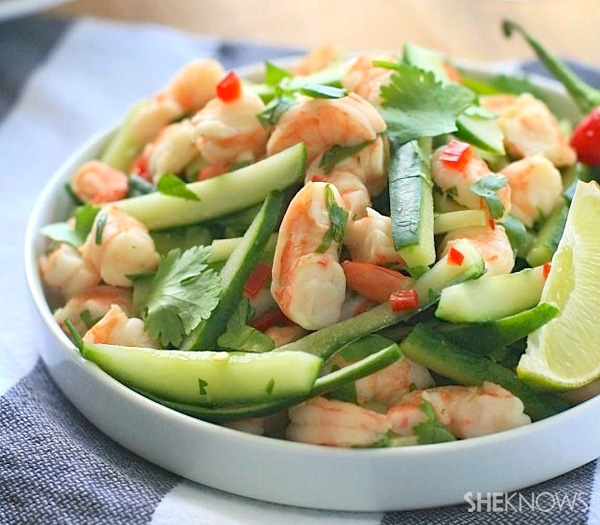 For a quick-and-easy side dish or light entree, throw this healthy shrimp salad together and serve with a scoop of steamed white rice.
Burmese shrimp and cucumber salad recipe
Adapted from Burma: Rivers of Flavor
Serves 4 as a side dish
Ingredients:
2 medium cucumbers
2 tablespoons vegetable oil
1 pound medium shrimp, peeled and deveined
4 green onions, sliced in half lengthwise and then cut into 1-inch pieces
1/4 cup chopped cilantro leaves
1 red jalapeño (or Fresno pepper), seeded and minced
1 tablespoon fish sauce
2 tablespoons lime juice
Salt (optional)
Directions:
Cut the cucumbers in half lengthwise and scoop out the seeds. Cut into 1-1/2-inch lengths, then cut those pieces into thick matchsticks. Reserve.
In a large skillet over medium-high heat, heat the oil. Add the shrimp and cook, turning occasionally, until cooked through. Remove from heat and transfer to a cutting board. Roughly chop the shrimp and transfer the shrimp and any accumulated juices to a large bowl or platter.
Add the cucumber, green onions, cilantro, red jalapeño, fish sauce and lime juice to the shrimp and toss to coat. Season with salt, if desired.
Serve immediately.
TIP
If you make this salad ahead, you may need to add a little extra fish sauce and lime juice, as it tends to soak up any liquids if stored for more than an hour.
More Daily Flavor
Lemongrass shrimp skewers
Avocado Alfredo pasta with spicy shrimp
Chicken, sausage and shrimp gumbo