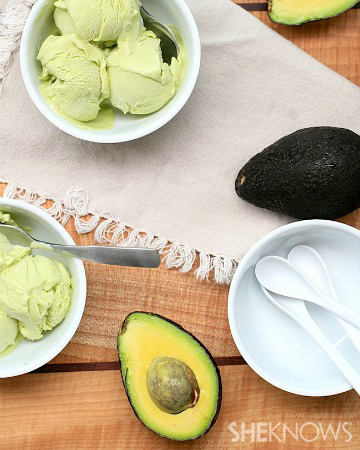 Go green for dessert
Avocado ice cream? Yes, you heard that right. Creamy avocado and bright citrusy lime are a perfect match in this creamy frozen treat.
You'll want to make a permanent space on the counter for your ice cream maker when you taste this unique avocado dessert — one bite, and you'll be hooked.
Avocado ice cream recipe
Serves 8-10
Ingredients:
3 small to medium avocados
2-3 tablespoons freshly squeezed lime juice
1-1/2 cups whole milk
3/4 cup sugar
1/4 cup sweetened condensed milk
1 cup heavy cream
Directions:
Remove the pits and scoop the flesh from the avocados.
In a blender, combine the avocado, lime juice, milk, sugar and sweetened condensed milk until smooth. Add the heavy cream and pulse quickly, until just combined.
Pour the mixture into the bowl of an ice cream maker and run according to manufacturer's directions. Transfer to freezer to set.
More Daily Flavor
Roasted strawberry hot fudge milkshake
Pink berry smoothie
Strawberry beer sorbet