Toss a burger on the barbie
Get grilling Australian-style with these burgers topped with pickled beets, fried eggs and grilled onions. You'll never eat a plain hamburger again!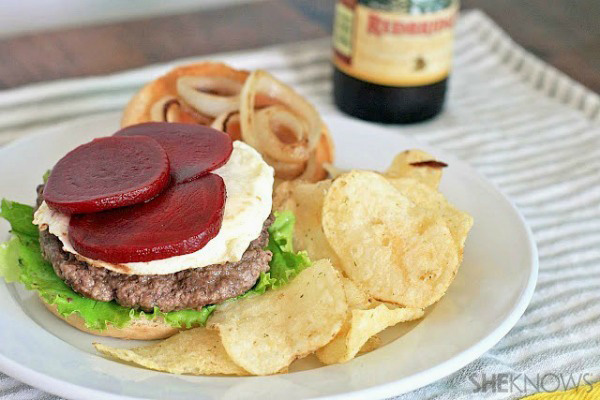 Change up your standard barbecue menu and include these Aussie burgers for your more adventurous guests. Round out the theme by serving thirst-quenching Australian shandies, a lemonade and beer cocktail.
Aussie burger (with beets and fried egg) recipe
Serves 4
Ingredients:
1-1/4 pounds ground beef chuck
1 teaspoon salt
1/2 teaspoon black pepper
4 hamburger rolls, split
1 large onion, sliced
4 large eggs, cooked over easy
3/4 cup drained sliced pickled beets
4 lettuce leaves
1 tomato, sliced
Mayonnaise, barbecue sauce, ketchup, as desired
Directions:
Preheat a grill to medium-high heat.
In a large bowl, mix ground beef with salt and pepper, then form into 4 patties.
Lightly oil the grilling surface. Cook burgers to your preferred level of doneness, several minutes on each side. Carefully grill the onion slices on each side until they're charred and tender-crisp. Toast the buns lightly on the grill.
Assemble burgers with grilled onions, beets, fried eggs, lettuce, tomato and desired sauce.
More Daily Flavor
Lemongrass shrimp skewers
Spicy grilled skirt steak with Thai red chili sauce
Easy barbecue chicken sliders