Kick your corn up a notch
Corn on the cob just got better! Slather roasted corn with delicious flavors like lime, sour cream, chili powder and cheese for a twist on a classic summer favorite.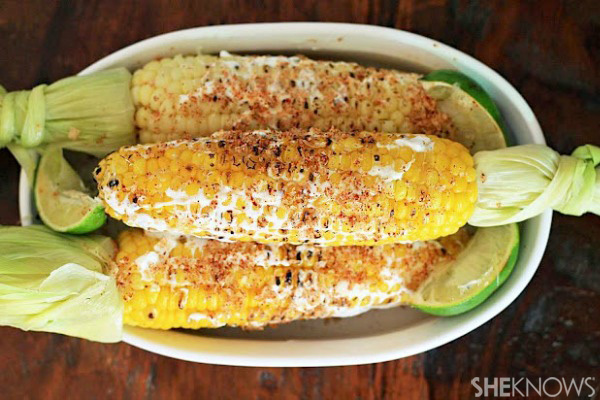 Simple roasted corn is a staple at barbecues, but you'll ditch the standard melted butter and salt recipe in favor of this kicked up Mexican-inspired corn on the cob for your next picnic.
Roasted corn with sour cream, chili and cheese recipe
Yields 6
Ingredients:
6 ears of corn, silk removed but husks left intact
1/4 cup grated Parmesan cheese
1 teaspoon hot chili powder
1 teaspoon salt
1 lime, cut into 6 wedges
1/4 cup Mexican sour cream (or regular sour cream)
Directions:
Tie the husks of each ear back to act as a handle for the corn.
In a small bowl, combine the Parmesan cheese, chili powder and salt. Set aside.
In a large stockpot, bring water to a boil over high heat. Add the corn. When the water returns to a boil, cook for another 5 minutes. Remove corn with tongs and drain off excess water. Pat dry.
Over an open gas-stove flame, char one of the ears of corn, rotating it every so often until slightly blackened on all sides. Remove to a serving platter and repeat with the remaining ears of corn.
Rub a wedge of lime over each ear of corn. Spread each ear with the sour cream and sprinkle with the Parmesan cheese mixture. Serve immediately.
Grill it!
If you'd rather use a grill to roast your corn, follow the directions in this article, then garnish.
More Daily Flavor
Sauteed zucchini with corn and roasted peppers
Cilantro lime jicama salad
Cauliflower salad with homemade vinaigrette