If you've ever worked in a kitchen or bakery, you know that everyone has his/her own tools and knives, and if you want to borrow them, you have to ask nicely. Cooks and bakers are overly protective of their tools: They pride themselves on keeping their knives sharp and their baking tools pristine.
So when presented with the question of what are some of their favorite tools in the bakery, chefs just could not choose one tool! Everything from your hands to the essential bowl scraper made an appearance, so below we're sharing the top 10 most popular tools for bakers and pastry chefs. We hope this list will help you narrow down your own favorites and stock up your baking drawers!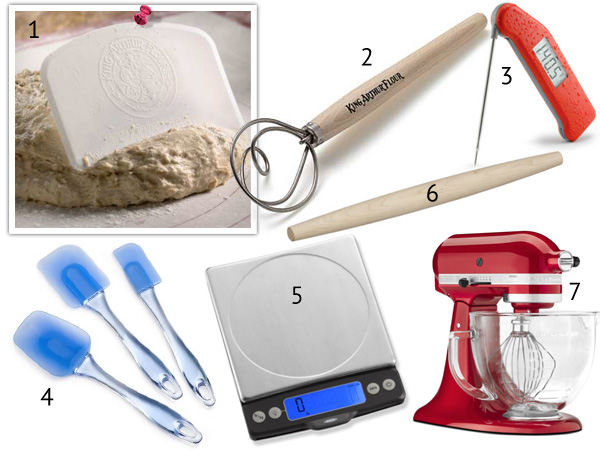 A flexible piece of plastic that is curved on one side and straight on the other, perfect for mixing and cutting soft doughs as well as picking up chopped ingredients. (King Arthur Flour, $2)
Unlike your usual whisk, the free-forming wire structure creates even flow when mixing batters and doughs and your batters will not get stuck in between the wires. A thick wooden handle is usual and the wires on the whisk tend to be thicker. (King Arthur Flour, $13-17)
3
Thermometer (ThermaPen/Oven Thermometer)
An essential tool when candy making as well as gauging the temperature of your ovens to check for accuracy, a simple thermometer for the ovens work well. A candy/oil thermometer is one that reaches temperatures higher than 500 degrees F. And what's a ThermaPen? King Arthur Flour says it's "the Rolls-Royce of thermometers" and thousands of chefs agree. With its instant read capacity, it's splash-proof and measures in .1 degree F increments. (ThermoWorks, $96)
Nothing like a simple spatula to get down the sides of bowls, pots, pans, and your mixer. Make sure to get one that's heat-proof so you can stir hot custards and more! (Amazon, $6)
Gone are the days of "a little bit of this, a pinch of that." If you want consistent results all the time, make sure to use a digital scale. You'll be measuring your ingredients exactly the same every time and the best part? Two different people can make the same recipes with the same results! (Williams-Sonoma, $50)
Not only is it great for anger management, a rolling pin will avoid those random baking moments where you're rolling with a wine bottle because you don't own a rolling pin. Great for doughs, it's also a great tool to use for pounding whole nuts. (Crate and Barrel, $10)
The one piece of equipment every home and professional baker dreams about: a stand mixer. Whether you're a fan of Kitchen Aid, Bodum, Cuisinart — it doesn't matter, it just matters that you have one in your kitchen. Stand mixers will cream cake batter, whip meringues and cream, and knead bread dough, just to name a few things! (KitchenAid, from $330)
Although not all of them are completely necessary to bake your favorite brownie recipe or knead a batch of your favorite cinnamon rolls, these are items that ultimately will make your baking experience easier, faster and more consistent. Other tools worth mentioning: microplane, strainers and wire whisks.
More on baking
Should you attend culinary school?
A conversation with celebrity pastry chef Jacques Torres
5 Best baking blogs