You'll Love The Crunch!

Add a crunchy, flavorful coating to your next fish dinner. This gluten-free recipe makes it easy — and delicious!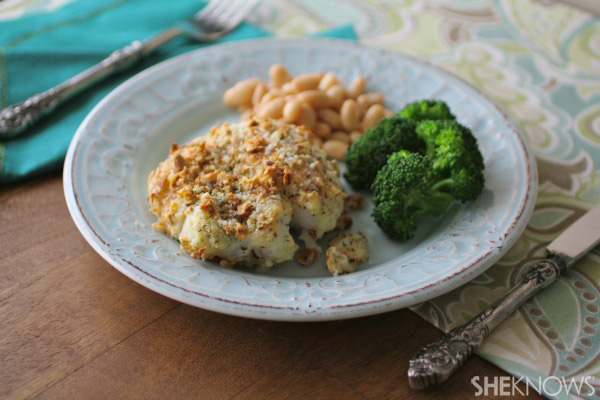 If you follow a gluten-free diet, you may have to pass up many recipes that add a crunchy coating to foods like fish or chicken. This Gluten-free Friday recipe for Parmesan and almond crusted cod will have you jumping for joy! Combining Parmesan cheese with almonds brings together flavor and crunch for a great coating for baked fish.
Gluten can be found in many different foods and products, from ketchup to soy sauce to candy and seasonings. While SheKnows.com tries to ensure these recipes are gluten-free, carefully read the ingredient labels of all food and food products you use for these recipes to ensure they are also gluten free.
Parmesan and almond crusted cod recipe
Serves 2
Ingredients:
2 (6 ounce) cod fillets
1/3 cup almonds
1/3 cup grated Parmesan cheese
1 egg
1/4 teaspoon ground black pepper
1 tablespoon fresh dill, finely chopped
Nonstick cooking spray
Directions:
Preheat the oven to 400 degrees F. Line a baking sheet with parchment paper and set it aside.
Add the almonds to a food processor and blend until coarsely chopped, then place them in a shallow bowl.
Add the Parmesan cheese to a shallow bowl, and mix in the ground black pepper and the fresh dill.
Place the egg in another shallow bowl and lightly beat it.
Place the baking sheet next to the shallow bowls.
One at a time, dip each fillet into the egg mixture, and let the excess drip off back into the bowl. Then press each fillet into the Parmesan cheese and coat both sides with it.
Next press each fillet into the ground almonds. They might not stick easily, so you may have to press the fillets into the almonds.
Place the fillets on the baking sheet and spray both sides with the nonstick spray.
If you have extra Parmesan cheese and almonds, sprinkle them over the tops of the fillets.
Bake for 7-9 minutes or until the fish flakes easily, and the tops are lightly golden.
Serve warm.
You'll love the crunch of this fish!
More Gluten-free Friday recipes
Spinach and white bean salad with avocado dressing
Margherita potato pizza
Zucchini "fries"