Curry take-out at home
Hearty coconut crab curry makes a comforting meal full of flavor and spice. Serve this creamy, delectable crab dish over steamed rice to round out your meal.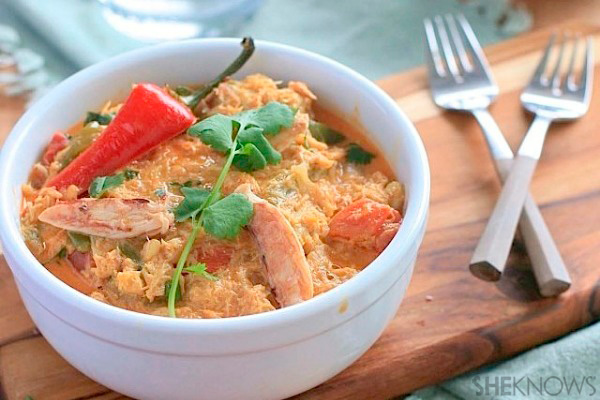 Skip the take-out and make homemade curry instead. Although the list of ingredients might seem a bit daunting, this flavorful crab dish comes together easily. Use canned crab from the refrigerated section to save on costs.
Creamy coconut crab curry recipe
Serves 4-6
Ingredients:
1 pound crabmeat
1/4 teaspoon paprika
1/4 teaspoon turmeric, divided use
1/2 teaspoon salt
1 tablespoon fish sauce
2 tablespoons canola oil
1 large yellow onion, thinly sliced
3 cloves garlic, minced
1-1/2 teaspoons freshly grated ginger
1/4 teaspoon cayenne pepper
1 cup canned diced tomatoes in juice
1 green bell pepper, seeded and thinly sliced
1 cup canned coconut milk
2/3 cup water
1 jalapeño, seeded and thinly sliced
1 tablespoon lemon juice
Chopped cilantro
Directions:
In a medium bowl combine the crab, paprika, 1/8 teaspoon of the turmeric, salt and fish sauce. Set aside.
In a large skillet, heat the oil over medium-high heat. Add the onion and cook, stirring frequently, until the onion begins to soften. Add the garlic and ginger and continue to cook for another 1-2 minutes. Add the cayenne pepper and the remaining turmeric and stir to mix.
Add the tomatoes and cook for about 5 minutes, using a spoon to break up the tomato. Add the bell pepper and continue to cook until the pepper has softened slightly.
Add the marinated crab and any of the juices, the coconut milk, water and jalapeño. Bring the mixture to a boil, then reduce heat and simmer until the sauce has thickened. Stir in the lemon juice.
Sprinkle with cilantro and serve immediately.
More Daily Flavor
Lemongrass shrimp skewers
Thai chicken with fresh basil
Spicy Thai peanut noodles