French flavors
Whether you're hosting breakfast, brunch, dinner or a cocktail party, this French-inspired leek and onion tart is a delicious addition to your menu.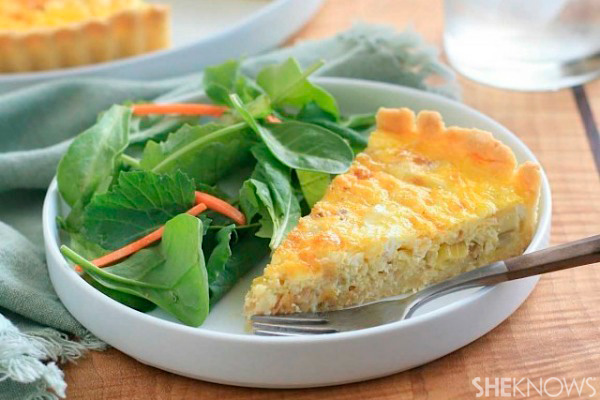 Gruyere cheese, leeks and onions give this simple tart a standout flavor that everyone, including your gluten-free friends, can enjoy.
Gluten-free leek and onion tart recipe
Crust recipe adapted from Gluten-Free Baking Classics; Filling recipe adapted from French Food at Home
Serves 4-6
Ingredients:
For the crust:
1/3 cup millet flour
1/3 cup superfine rice flour
1/3 cup potato starch
2 tablespoons sweet rice flour
2 tablespoons tapioca starch
1/2 teaspoon sugar
1/2 teaspoon xanthan gum
1/4 teaspoon salt
6 tablespoons cold butter, diced
1 large egg
2 teaspoons lemon juice
For the filling:
2 medium leeks
1 tablespoon butter
1 medium yellow onion, diced
1-1/2 cups grated Gruyere cheese
3 eggs
1 cup heavy cream
Salt
Pepper
Directions:
For the crust:
Preheat oven to 375 degrees F. Spray a 9 or 10-inch tart pan with cooking spray and dust generously with rice flour.
In a large bowl combine the millet flour, rice flour, potato starch, sweet rice flour, tapioca starch, sugar, xanthan gum and salt. Add the butter and use a pastry cutter to cut the butter in. Add the egg and lemon juice and mix until the mixture comes together in a ball. Use the heel of your hand to quickly knead the dough. Do not overwork the dough or allow butter to melt.
Place the dough on a piece of waxed paper. Cover with another sheet of wax paper and roll out the dough to the approximate size of the tart pan. Remove the top layer of wax paper and place the dough into the tart pan. Remove the other sheet of waxed paper and press dough evenly into the pan.
Bake the crust for 10 minutes. Remove from the oven and let cool slightly. Crust will be only partially baked.
For the filling:
Finely slice the white and pale green section of the leeks, then wash and drain.
In a pan over medium heat, melt the butter. Add the sliced leeks and diced onion and cook, stirring occasionally, until soft. Spread the mixture into the crust and then sprinkle evenly with the shredded cheese.
In a bowl, beat the eggs and then whisk in the heavy cream. Season with salt and pepper. Pour egg mixture over the cheese.
Bake until the tart has set and the surface has lightly browned, 15-30 minutes.
Remove from oven and let cool. Serve at room temperature or refrigerate until serving.
More Daily Flavor
Balsamic-roasted strawberry parfaits
Crabcake eggs Benedict with bacon hollandaise sauce
Olive and goat cheese tartlets