Stay organized with help from the web
The biggest challenge to a block party menu is organization. Who's bringing what? For how many? Take a breather and follow these tips for easy summer party planning with a little help from some familiar web services.

Planning a block party can be daunting. Perhaps one of the most challenging parts is feeding the hungry crowd. How do you make sure there's enough food for all and that everything (including incidentals) is taken care of? How about a little help from an online sharing service like Clipboard or Pinterest?
Organizing the menu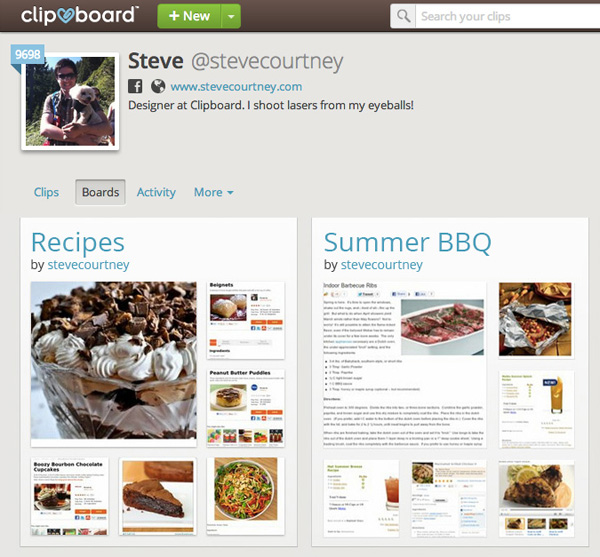 You may be tempted to just ask everyone to bring their favorite foods, but remember that means that you'll have a lot of disjointed dishes, and you could easily end up with six potato salads and no veggies.
Set up a board on Clipboard or Pinterest just for your party planning and invite one member of each household to join. While Pinterest works for this, we prefer Clipboard because it has a few features that make it especially useful for party planning (like tagging, the ability to @-reply to bring a note to someone's attention and the ability to create notes without special clips from the web).
Have a single small committee decide on the menu or theme. For example, if you decide to do barbecue, you'll want one or two people in charge of the main dish and everyone else in charge of extras. Either assign each household a dish to bring or ask them to submit ideas by pinning or clipping them to the main board. Then everyone can see at a glance if there's a duplicate and those things can be worked out in advance.
Once the menu is set, make sure you keep people informed of how many people they'll need to serve and other information they'll need. For example, if someone is supposed to bring baked beans, add a note to their clip letting them know how many people they're serving, what serving utensils to bring, if any, and whether they should bring optional add-ins (like cheese, green onions, etc.).
Make it easy! Try our block party grilling menu
Other important stuff
The menu isn't the only thing people need to know about, though. Use the notes feature to add party details, like the time and date, where they should bring the food and any other important info.
It's also helpful to post a note or link containing food safety tips (how to keep it warm or cold, etc.). Basically, it's helpful to have a central location with details that apply to everyone.
And don't forget the utensils and plates! Make sure someone's in charge of bringing the right kind of plates (for barbecue or messy food, you'll need heavy-duty plates, preferably with dividers), spoons, forks, serving utensils, cups (do you need special glasses for a cocktail?), drinks (especially plenty of water) and napkins. If you want these things to match, make sure you post and assign the exact type or color you need.
You should also suggest special disposable containers guests can buy for their dishes instead of bringing their own. You may also need ice, ice chests, tables, chairs and other incidentals. If you can't find it online, you can post a note and assign it.
tip
Don't forget to send a reminder about a week before the event. Even if you can set up emails to for notifications when things on your board change, one last reminder helps ensure no one misses something important.
More on block party planning
10 Tips to organize an outstanding block party
Bring back the block party: 3 Creative themes you have to try
How to plan a holiday block party