Shrimp on a stick
Give your grilled shrimp a makeover with the Vietnamese flavors of lemongrass and chili paste.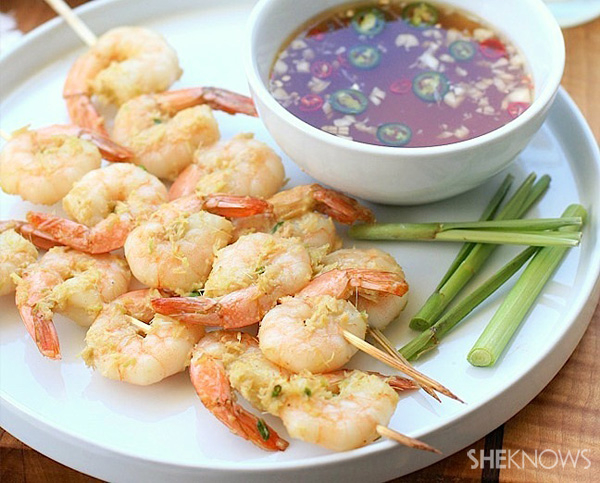 Grilling season just got better! These lemongrass shrimp skewers are full of bright and spicy flavors.
Lemongrass shrimp skewers recipe
Serves 4-6 as an appetizer
Ingredients:
1 stalk lemongrass, woody ends trimmed and coarsely chopped
4 cloves garlic, minced
1 tablespoon fish sauce
1 teaspoon soy sauce
1/2 teaspoon ground chili paste
1 teaspoon sugar
2 teaspoons lime juice
2 tablespoons vegetable oil
1/2 teaspoon black pepper
1 pound medium to large raw shrimp, peeled and deveined
Finely chopped scallions or mint
Bamboo skewers, soaked in water for at least 30 minutes
Vietnamese dipping sauce (recipe follows)
Directions:
In a blender or food processor, combine the lemongrass, garlic, fish sauce, soy sauce, chili paste, sugar, lime juice, vegetable oil and black pepper until smooth.
Transfer lemongrass mixture to a medium bowl and add the shrimp. Toss well to coat. Marinate for 15-30 minutes. Thread the shrimp onto the skewers.
Preheat a grill and grill shrimp for a couple minutes each side, until cooked through.
Serve with Vietnamese dipping sauce.
Vietnamese dipping sauce recipe
Adapted from Into the Vietnamese Kitchen
Ingredients:
1/4 cup fresh lime juice
1 tablespoon rice wine vinegar
3 tablespoons sugar
2/3 cup water
1/3 cup fish sauce
1-2 Thai chilies or Serrano peppers, sliced into thin rings
2 cloves garlic, minced
Directions:
Combine all ingredients in a medium bowl and stir to dissolve the sugar. Taste and adjust amounts, as necessary, to desired flavor.
More Daily Flavor
Thai chicken with basil
Sweet and spicy Asian chicken
Spicy Thai peanut noodles