Full of fresh veggies
This versatile side dish of sauteed zucchini with corn and roasted peppers is a great complement to any entree.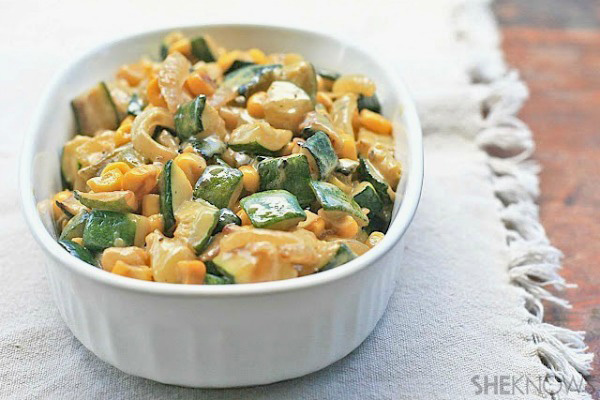 When your zucchini plants produce more than you can keep up with, this recipe is perfect for using up some of your garden's bounty.
Sauteed zucchini with corn and roasted peppers recipe
Adapted from Authentic Mexican
Serves 4
Ingredients:
1 pound zucchini, cut into 1/2-inch cubes
1 teaspoon salt
1 tablespoon butter
1 tablespoon olive oil, plus extra if needed
1/2 large yellow onion, thinly sliced
1 cup frozen corn, defrosted
1 poblano or green bell pepper, roasted, peeled, seeded and cut into thin strips
2/3 cup Mexican-style sour cream (or regular sour cream)
Salt and pepper, to taste
Directions:
Place the zucchini in a colander and mix with 1 teaspoon salt. Let stand in the sink for about 30 minutes to draw out the liquid. Rinse and pat dry.
In a large skillet over medium-high heat, heat the butter and olive oil. Add the zucchini and cook, stirring often, until browned and just tender. Remove the zucchini to a bowl with a slotted spoon, keeping as much of the butter and oil mixture in the pan as possible. Add more olive oil if the pan is too dry.
Add the onions to the pan and cook, stirring until translucent. Add the corn and the roasted peppers. Continue to cook until the onion begins to brown. Stir in the sour cream and zucchini and cook until the sour cream has reduced to a thick glaze. Season with salt and pepper, to taste.
QUICK TIP
Not sure how to roast peppers? Check out this tutorial to find out how.
More Daily Flavor
Roasted mushroom quinoa risotto
Mango salad
Slow-roasted tomatoes