Savory and sweet
Strawberries roasted in balsamic vinegar and black pepper give these yogurt parfaits a savory twist.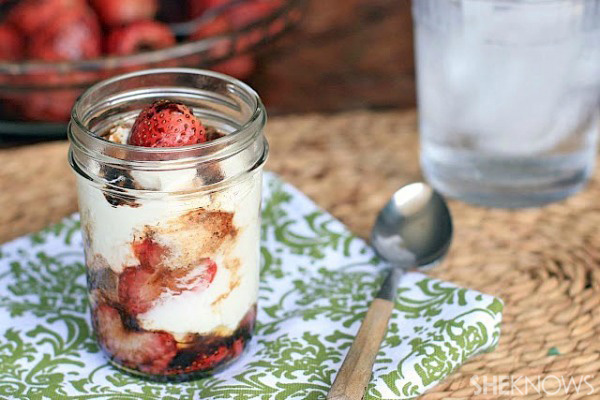 Take advantage of strawberry season by incorporating them into more than shortcakes and jams. These balsamic-roasted strawberry parfaits are perfect for breakfast or dessert.
Balsamic-roasted strawberry parfait recipe
Adapted from The World Kitchen
Serves 4
Ingredients:
1 pound strawberries, cleaned and stems removed
2 tablespoons aged balsamic vinegar
1/2 teaspoon freshly ground black pepper
2 tablespoons butter
2 tablespoons lightly packed brown sugar
24 ounces plain Greek yogurt
Directions:
Preheat oven to 400 degrees F.
Toss the strawberries with the balsamic vinegar and black pepper. Let mixture sit at room temperature for about 20 minutes.
Place the butter in a square baking dish or pie plate and place in the oven. When the butter is melted, remove dish from the oven and transfer the strawberries and any of the accumulated juices to the dish. Sprinkle strawberries with the brown sugar and toss gently.
Put the strawberries in the oven and bake until they are soft and the liquid is syrupy. Remove from the oven. When cool, slice the strawberries. Reserve the liquid in the dish.
In four individual bowls, glasses or jars, layer the strawberries with the Greek yogurt, repeating to make several layers. Drizzle with the balsamic syrup from the baking dish.
More Daily Flavor
Roasted strawberry hot fudge milkshake
Strawberry beer sorbet
Pink berry smoothie