Seasonal happy hour
Incorporate seasonal rhubarb into your next happy hour with this refreshing rhubarb and ginger mojito.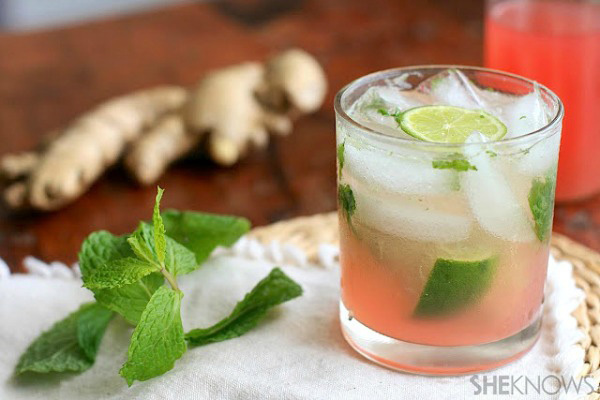 Adjust the rhubarb and ginger syrup in this cocktail to give it as much zing as you like. It's a perfect combination with fresh mint.
Rhubarb and ginger mojito recipe
Yields 1
Ingredients:
10 mint leaves
1/2 lime, cut into three wedges
Rhubarb and ginger syrup, to taste (directions follow)
3 tablespoons white rum
Ice
Sparkling water
Directions:
In a glass, muddle together the mint and lime wedges.
Add the rhubarb and ginger syrup and rum. Stir to mix. Fill glass with ice and top with a splash of sparkling water.
Garnish with a slice of lime and mint leaves, if desired.
Rhubarb and ginger syrup recipe
Ingredients:
4 stalks fresh rhubarb, cut into 1/2-inch pieces (about 4 cups)
4-inch piece fresh ginger, peeled and coarsely chopped
3 cups sugar
2 cups water
Directions:
In a large saucepan, combine the rhubarb, ginger, sugar and water in and bring to a boil. Reduce heat and simmer, uncovered, until the rhubarb is soft. Remove from heat and let sit for 30 minutes.
Pour mixture through a fine-mesh sieve into a bottle. Chill syrup completely.
More Daily Flavor
Spicy blood orange and whiskey cocktail
Homemade sweet and sour bar mix
Raspberry lemonade