Totchos - A fun twist on Nachos
Skip the tortilla chips and pile crispy tater tots with all the classic nacho fixings instead! These totchos will be a hit with kids and adults.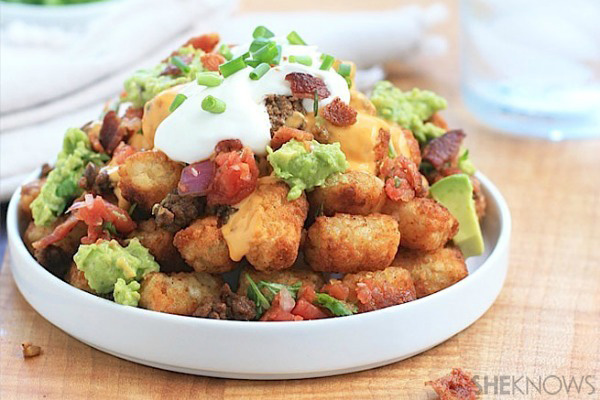 Everyone loves nachos, but this tater tot version is even better!
Tater tot nachos recipe
Serves 4 as a main course or 8 as an appetizer
Ingredients:
32-ounce bag frozen extra-crispy tater tots
4 slices bacon
1/4 yellow onion, finely chopped
2 cloves garlic, minced
1/2 pound lean ground beef
1/2 tablespoon chili powder
1/2 teaspoon ground cumin
1/4 teaspoon paprika
1/4 teaspoon cayenne pepper
1/4 teaspoon oregano
1/4 teaspoon salt
1/4 teaspoon black pepper
15-ounce jar salsa con queso
Salsa
Guacamole
Sour cream
Chopped green onions
Directions:
Prepare the tater tots using the oven method instructions on the package.
While the tater tots are baking, fry the bacon in a large frying pan until crisp. Remove and drain on paper towels. Reserve.
Remove all but about 1 tablespoon of the bacon grease from the pan. Add the onion and garlic to the pan and cook over medium heat until softened. Add the beef and break up to cook. When the beef is brown, add the chili powder, cumin, paprika, cayenne pepper, oregano, salt and pepper. Stir to incorporate and then cook for several more minutes until the meat is cooked through.
Heat salsa con queso in the microwave according to directions on jar. Place tater tots on a large platter or individual plates.
Top tater tots with the seasoned beef, salsa con queso, salsa, guacamole, sour cream and green onions. Crumble the bacon over the top and serve immediately.
More Daily Flavor
Buffalo chicken meatball sandwiches
Spicy ranch crackers
Creamy white queso dip