Helpful Tips To
Eat Dinner Quicker
Sometimes dinnertime can be a stressful time but not anymore! Here we share a variety of great tips to help keep you organized, help you save money and, of course, help your dinner planning (especially for busy moms).
(page 2 of 2)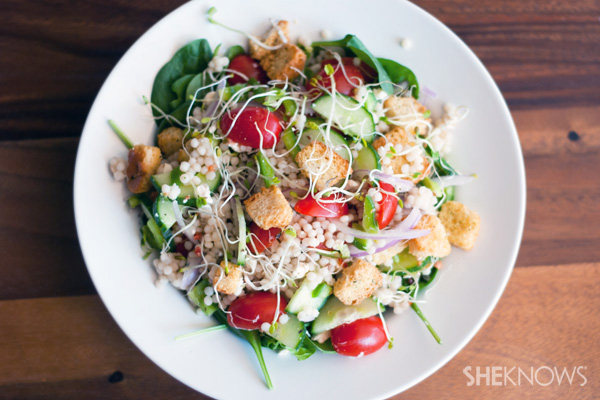 Quick and easy summer couscous salad recipe
Serves 4
Ingredients:
4 cups fresh baby spinach
2 cups cooked Israeli couscous
1 cup cherry tomatoes, halved
1 cup diced cucumber
1 large handful alfalfa sprouts
1/2 cup croutons
1/2 cup balsamic vinaigrette or your favorite salad dressing
Directions:
In a large bowl add the spinach, couscous, tomato, cucumber and alfalfa sprouts. Drizzle 1/4 cup of the balsamic vinaigrette over the top and toss to mix well.
Divide between 4 serving bowls and top with croutons. Serve with remaining balsamic vinaigrette.
More helpful meal planning tips
Meal planning made easy
Fast nutritious meals for your family
Perfect pantry lists for quick and easy meals