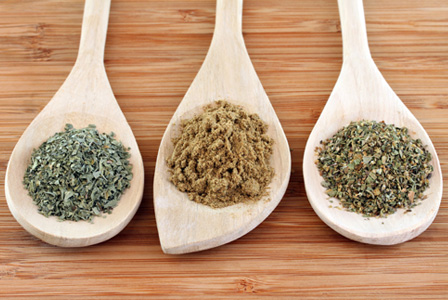 We're all familiar with chili powder and cayenne pepper, but the herbs and spices of Mexico are more extensive than just common taco seasonings. Learn about the herbs and spices of Tierra Azteca.
More than just
chili powder
Constantly serving Mexican food that has the same boring flavor profile and ingredients? Get creative on your next culinary adventure de Mexico by learning a little more about the herbs, spices and spice mixes of our neighbors to the south.
Achiote paste
A paste made from annatto seeds, coriander, oregano, cumin, cloves, garlic and more, it's used in a variety of dishes, especially marinades.
Adobo sauce
Frequently used to preserve chipotles, adobo sauce is a smoky chili-based sauce made with tomatoes, onions, garlic and spices. It's a tad on the spicy side and may be used in place of chili powder in many dishes to provide an additional kick.
Ancho chili powder
Ancho chili powder is different than regular chili powder. It's sweet and rich with some dried fruit flavor.
Anise
With a flavor similar to licorice, anise is used in the same way as clove. It may also be found in sauces and other savory dishes.
Chili powder
Many people assume chili powder is just ground chilies, but it's actually a blend of dried, powdered chilies, cumin and oregano. It's frequently used as seasoning for meats and vegetables and has a mild spiciness.
Chipotle
Chipotle isn't a variety of pepper, but rather, a dried jalapeño. It has a distinctive smoked flavor that complements many sauces, salsas and marinades. It comes dried or preserved in adobo sauce (see above).
Cilantro
Cilantro is used in a variety of Mexican dishes. Both the leaves and the seeds (coriander) are edible. It's frequently found in salsas, molés, cheeses, broth-based soups, rice and beans.
Clove
Similar in flavor profile to cinnamon, clove has a slightly smokier flavor and more pungent aroma. It's often used to add depth to sauces (like molé) and other dishes.
Coriander
The seed of the cilantro plant, coriander is sweet, spicy and a bit lemony.
Cumin (comino)
This dried seed, which is sometimes ground, has a warm, smoky flavor and is slightly bitter. It pairs well with almost any meat and a variety of heartier vegetables and legumes.
Hierba de conejo
Fresh or dry, hierba de conejo is used with beans and rice. It has a musty but pleasant flavor and is frequently used in cold beverages, as well.
Hierba santa
The heart-shaped leaves of hierba (or hoja) santa are used frequently in green molés, in tamale wrappings and in meat dishes. It's got a strong and rather unexpected flavor (which has been described by various people as similar to mint, eucalyptus, peppercorn, allspice or anise) and should be used sparingly. Too much of it isn't good for you.
Laurel
Similar to a bay leaf but more delicate, laurel is used for cooked sauces, meat dishes and pickling.
Mexican cinnamon
True cinnamon (unlike what we typically purchase in the store), Mexican cinnamon is, in taste, similar to the cassia people in the U.S. think of as cinnamon. It's often used in both sweet and savory dishes.
Mexican oregano
Mexican oregano has an earthy flavor and is often used to season tomato-based dishes. It's stronger and more bitter than Mediterranean oregano.
Papalo
Similar to cilantro, papalo is pungent and powerful. Eaten raw with tacos, and in cemitas, guacamole and salads. Widely considered to be an acquired taste.
Pipicha
Similar to cilantro (though stronger), pipicha has overtones of anise and lemon. It's frequently used to flavor meat dishes.
Recado rojo
This spice mix was used by Mayan indians and contains cinnamon, clove, oregano and garlic.
Romerito
With small succulent leaves that resemble rosemary, the vibrant and earthy flavor resembles spinach. They're often eaten raw or cooked in dishes for holidays. They're also commonly served with dried shrimp.
Te limon
It's actually just lemongrass, but is known as te limon because it's frequently used in teas. But it can also be used in soups and in modern Mexican cooking.
unexpected Herbs
In addition to these herbs and spices, Mexican cooking also makes use of many flavorings you already have in your spice rack: basil, spearmint, marjoram, peppermint, parsley and more!
Mexican-inspired recipes
The Mexican cemita sandwich
Christmas tamales recipe
Southwestern wedding soup