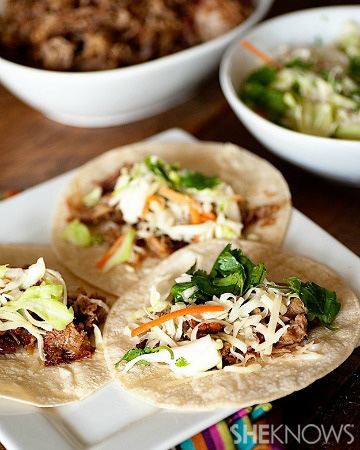 Slow cooked Meat
Who knew it was so easy to make classic carnitas at home? You'll never have to go out for Mexican food again!
Carnitas, or little meats, is a pork dish that's cooked for hours to tender perfection. Eat it by itself or in tacos and burritos for a simple but delicious meal.
Citrus-cooked carnitas tacos recipe
Adapted from Smitten Kitchen
Ingredients:
4-5 pounds boneless pork shoulder or pork butt
3/4 cup orange juice
1/4 cup lime juice
4 cloves garlic, peeled and crushed
2 teaspoons ground cumin
2 teaspoons Kosher salt, plus more to taste
Optional for serving:
Corn tortillas
Grated cheese
Chopped onions
Shredded lettuce or cabbage
Salsa verde
Cilantro
Directions:
Cut pork into 2-inch cubes, leaving fat intact.
Place the pork in a large, heavy-bottomed pot or Dutch oven. Add the orange juice, lime juice, garlic, cumin and salt. Add just enough water to the pot to cover the pork.
Bring to a boil and reduce the heat to a simmer. Simmer uncovered, without stirring, for 2 hours.
Increase the heat to medium high and turn the meat occasionally. Continue cooking for 45 minutes or until all of the water has evaporated, leaving only the pork fat. Let it fry, stirring as needed, until the pieces are crispy and browned.
Remove from pot and break up any large chunks, if desired. Add more salt as needed.
Serve carnitas with corn tortillas and toppings of choice.
Note
Soak your pot in warm water immediately after cooking the pork for easy cleanup.
More Daily Flavor
Chorizo and potato soft tacos
Cheesy Mexican rice and black beans
Beef enchilada casserole