Hot and spicy sammies
Buffalo sauce isn't just for chicken wings. Get your fill of everyone's favorite hot-and-spicy condiment with these mouthwatering meatball sandwiches.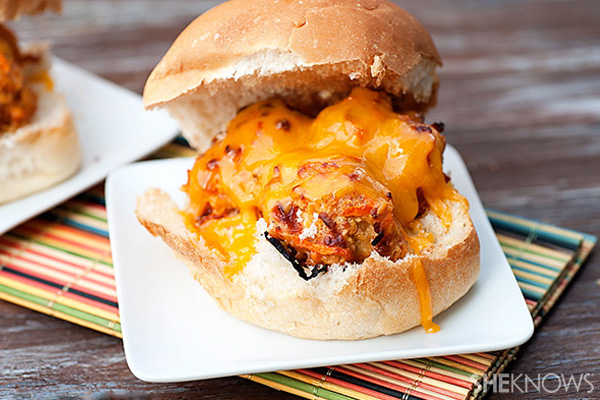 For a quick-and-easy meal with tons of flavor, these Buffalo chicken meatball sandwiches hit the spot! You can easily adjust the spice level as desired by adding more or less hot sauce.
Buffalo chicken meatball sandwich recipe
Yields 5
Ingredients:
For the meatballs:
1 pound ground chicken
1 egg
4 ounces mozzarella cheese, grated
1/2 cup grated carrot
1/2 cup panko breadcrumbs
1/2 cup rolled or quick oats
1/2 cup bottled ranch dressing
1/2 cup Frank's RedHot Sauce
For the sandwiches:
5 sandwich rolls or buns
Frank's RedHot Sauce
4 ounces cheddar cheese, grated
Ranch dressing
Directions:
For the meatballs:
Preheat oven to 500 degrees F. Line a large baking sheet with parchment paper.
In a large bowl, add all of the meatball ingredients. Using your hands, mix until combined.
Shape meatball mixture into balls, about 2 tablespoons each. Place on the prepared baking sheet. Bake for 12-15 minutes, until cooked through. Remove meatballs but leave oven on.
To assemble:
Slice the rolls in half and top with three to four meatballs. Drizzle on more hot sauce, if desired. Top with a small handful of cheddar cheese.
Place on a baking sheet with the top half of the roll cut side up next to the bottom portion of the sandwich. Repeat with remaining sandwiches.
Place sandwiches back in the oven until the cheese has melted and the bread is beginning to brown at the edges, about 5 minutes.
Serve with extra ranch dressing and hot sauce.
More Daily Flavor
Buffalo chicken soup with orzo
Sweet and spicy Asian chicken
Beer-braised chicken sliders